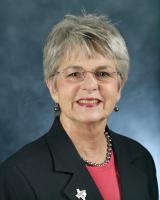 By Sandy Wright Kibby, 2013 Chair of the Board
Easing into Summer
Memorial Day Weekend kicks off the summer season for many New Braunfels businesses. As I sit at my dining room table typing these thoughts I hear not only the Indianapolis 500 in the background, but also the raindrops falling on my deck. Normally, rain is not welcome on this first weekend of "the season", but this year, we are rejoicing at the relief that this phenomenon brings. While the water has caused a hiccup or two, we have to realize that this will enhance our chances for having a good rest of the summer. Without rain, the rivers don't flow, and we all remember what a mess that can cause. So, we welcome the gift of rain.
Your Chamber of Commerce has been busy during the month of May, and especially busy have been membership sales specialists Sandy Payson, Rita Svoboda, Larry Kunkel,  and membership directory ad salesperson Ginger Doherty. Our membership has hit an all time high of 2,094 and we have these diligent salespeople to thank for following up on new member leads and for retention of the members we already have. Ginger is out in the community selling ads for the award-winning directory that will come out in October. Her deadline is the end of August; so, let Ginger know if you are interested in advertising in the beautiful magazine that includes all member businesses. We have already had forty-five new business ribbon-cuttings this year, with eight of these in May.
May is graduation month across the state, and this is also true with our outstanding Adult and Youth Leadership New Braunfels Classes of 2013. The adult class graduated twenty-seven members, and the student class graduated thirty-one. These folks enjoyed learning about what makes New Braunfels tick and how to give back to the community through leadership. Becoming graduates of these classes prepares citizens to be future community leaders. When choosing chairs and vice chairs of various Chamber committees and task forces, these graduates are highly considered because we know that they have the will and the training to move into leadership roles.
Also in May, the Small Business Advisory Committee along with the Board of Directors chose another Small Business Person of the Year, Matt Kyle of Kyle Law Firm. Matt's name has been engraved on a plaque with other Small Business winners, and this will forever hang in the Chamber's Hall of Honor. Matt certainly exemplifies all of the characteristics of a winner of this prestigious award. You may have seen his picture on the front page of the May 22 Herald-Zeitung as he dedicated the award to his brother Scott. As we listened to Matt's emotional acceptance of the honor, his brother Scott was constantly nodding his head in acknowledgement of his accomplished brother Matt as the entire family beamed with pride.
To be considered as the Small Business Person of the Year, one has to be in business and a principal of a business of no more than 50 employees for at least five years. Matt, with the support of his wife and five children, has been practicing law in New Braunfels for 15 years. His mom Betty has stayed by his side managing the office. Matt's involvement in the community is impressive and his contributions to youth are certainly appreciated as his profession gives him the opportunity to be a coach, a counselor, a clergyman, and a salesperson. He's a member of New Braunfels Rotary Club, an alumnus of Leadership NB, a sponsor and assistant coach for NB Little League, a coach for NB Youth Soccer, and Chairman of the State Bar of Texas Disciplinary Panel.
When Mayor Gale Pospisil and County Judge Sherman Krause read proclamations in his honor, Matt's family and staff were there to accept the honors on his behalf as Matt was in a South Texas courthouse representing his clients. This is what good small business people do: whatever it takes to get the job done. Matt surely had his priorities straight as he knew that rather than stay at home and receive the honors, he was taking care of business in the courtroom. Congratulations, Matt. You are a fine example of what earning a living in New Braunfels is all about.
We had a wonderful spring May mixer among the giant oak trees at the Sophienburg Museum. Director Linda Dietert explained why the museum was located on the highest hill in downtown New Braunfels and the meaning of the various buildings and street names around the museum grounds. What a wealth of information and history are maintained in those beautiful buildings! If you have not taken your children or grandchildren for a little history lesson, you must put this stop on your list of summer activities. They will be enthralled at the discoveries in store for them.
The Chamber's Convention and Visitors Bureau Staff led by Judy Young is hard at work promoting our beautiful city to those planning summer vacation adventures. While Houston and Dallas are heavy promo areas, our crew goes all over the state and country advertising our many offerings for an affordable and entertaining summer destination for families. We want New Braunfels to be the hub for these families to stay, sleep, eat and play for their summer get-aways. If you have not already done so, take your brochures and promotional materials to the Chamber office so that our visitors know about your offerings.
Let's all hope the rains continue to bless us so that we are ready to welcome our guests to the heart of central Texas. Best wishes for a fantastic summer season, and we hope that you will contact the Chamber for your business and promotional needs.