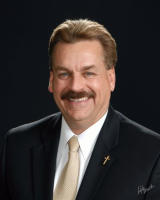 By Mark Hampton, 2014 Chair of the Board
Well, it's 4th of July weekend in New Braunfels and I hope everyone enjoyed the downtown Sophienburg Museum parade and the HEB fireworks in Landa Park. Around our great country, families and friends gather to celebrate our country's independence. And while we celebrate in New Braunfels, this is also one of the busiest weekends for our local economy. As our local economy continues to grow and surpass previous year's sales tax revenue dollars, let's not lose sight of the reason we celebrate each 4th of July or should I say, Independence Day!
I am sure you don't need me giving you a history lesson but it is important to stop and reflect on the significance of what occurred 238 years ago. The leadership and sacrifices that have been made over the years are the opportunities that we all have today. Those same types of initiatives, ideas and foresight are recreated in organizations and businesses every day.
In the business community, the idea of a national institution to represent U.S. business interests was first discussed by President Taft. In April of 1912, delegates from various trade organizations came together to form what is now the U.S. Chamber of Commerce. The Greater New Braunfels of Chamber of Commerce was established 7 years later in 1919.
Today, the Greater New Braunfels Chamber of Commerce is composed of approximately 2,200 members. Our Chamber of Commerce ranks as one of the more successful Chambers in the state of Texas. This is due to the activity and involvement of the membership. Committees are made up of a large number of volunteers addressing Economic Development, Community Betterment, Public Policy and Member Services and Outreach. The total number of Committees is 18. Committees are always seeking new members and participants. For more information regarding committees, visit www.innewbraunfels.com/chamber/get-involved/chamber-committees
One of the more significant cornerstones to the continued success of the Greater New Braunfels Chamber of Commerce has been the leadership of the organization. New Braunfels recently lost one of our community's great leaders. Mr. Tom Burrus passed away on June 30th. Mr. Burrus was very involved in the Chamber of Commerce, serving as Chair of the Board (then called President) in 1966-67.   A former city attorney for New Braunfels, he founded the Reagan Burrus law firm that bears his name today.
Burrus was honored for his many civic accomplishments including a Chair of the Board Award in 1968; the Besserung Award in 1974; inducted into the Chamber's Hall of Honor in 1976 and named a "Living Legend" of New Braunfels in 2002.  Burrus founded the Texas Legislative Conference in 1967 and was the Chair Emeritus of the Conference.  The conference will celebrate its 50th anniversary in 2016.
He also founded the Braunfels Foundation Trust, a 501c3 not for profit that today provides post-secondary career tech scholarships for graduating high school seniors.  The Trusts' Dierks Awards were also a brainchild of Burrus, honoring middle school students for their citizenship activities.  Burrus was a founding member of the Comal County Industrial Development Authority.
Mr. Burrus' leadership has been a significant contributing factor in today's success of the Greater New Braunfels Chamber of Commerce.
Whether it is local leaders like the late Tom Burrus or those of our countries founding fathers, a common denominator in their endeavors has been teamwork. It is TEAMWORK that has provided us with the opportunities that we have today.
Another great example of TEAMWORK was exemplified recently by the San Antonio Spurs. This team and organization showed the sports world what true TEAMWORK is like. In a time when so many in the entertainment and sports world are looking for the personal accolades and recognition, it really makes you feel good to watch a group of professionals who work together for a common goal. Congratulations NBA Champions, San Antonio Spurs. We concur, it is TEAMWORK THAT DETERMINES TOMORROWS SUCCESS.