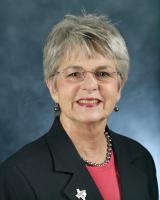 By Sandy Wright Kibby, 2013 Chairman of the Board
A friend asked me not long ago how my term as chair of the chamber board was going this year. After contemplating this for a minute, I replied that I really had not accomplished a darn thing out of the ordinary. His reply was, "Well, good, then you haven't screwed anything up yet." Yet? Oh great!
Half-way through my term as chair of the board, I can say that we the chamber have accomplished a lot. In our first six months of the year we have had fifty-two ribbon cuttings for new or re-established businesses. We have hit an all-time high number of members at 2,100. The chamber's very talented staff has held two new-member orientations and two new-member receptions at the Landmark Lofts. We have held six board meetings where we have announced and recognized five outstanding citizens with a Chair of the Board Award. We have held two past Chairmen's receptions where we engaged in conversation exchange with our predecessors.  So, even "business as usual" at the chamber is astonishingly busy.
My most enjoyable experience as Chair has been the ribbon-cutting ceremonies for new (or newly-defined) businesses. I always try to arrive a little early so that I have a chance to see what the business is all about and to meet the owners or managers. It is especially fun to find out that it is a family business that is continuing on into the next generation.
Tomlinson's Feed and Pet Store just celebrated its grand opening in WestpointeVillage SC on Highway 46. It was first established in Austin in 1946 as Tomlinson's Feed Stores by owner Scott Click's father-in law. Now, the Clicks and their two grown children work in the business. They have perfected the fine art of pet food!
The IT Guys, over on Industrial Road, is carrying on a tradition of a telecommunications business. The owner's grandfather used to check telephone lines many years ago; thus, the spark for their telecommunications business was begun.
Wally's Party House was first established in the 1970s by two brothers, one named Walter (thus, the "Wally's"). This new business in Marketplace Center is an extension of the multiple stores, continuing the same fun and excitement intended by the original founding brothers.
D. Lee Edwards Realty is in business with his daughter Aja. Blue Bird Kids Academy involves all of the family in the operation of its business of day care for children. Las Fontanas Mexican Kitchen includes the mother and brothers and extended family cooking and waiting tables together. Express Lube on Business 35 is also a family affair, and the list goes on and on.
Even the entrepreneurial places, like the Republic Cigar Humidor in Gruene and the Trey Jackson Motors on IH 35 have roots leading back to some deep-bedded long-held desire by family to start such a business with exotic cigars and expensive foreign cars.
Of course, I have a warm spot in my heart for family businesses My family business Wright Distributing Co. was established by my parents Louis and Virginia Wright in 1948, when they obtained the rights to sell Jax Beer. Over the years the family has purchased several small distributorships, and today we service thirteen counties out of three warehouses. My sister and I inherited the business when our parents passed away, and today my son is also in the business as we celebrate 65 years.
So, I can relate to the trials and tribulations as well as the successes and celebrations. Family business becomes who we are what we know. It's the root of our passion and vein of our commitment. We invest most of our resources in our workforce. We have to purchase and maintain our facilities. We must buy insurance for our employees and autos and our property and the liability that goes with all of that.
Promoting our business, the marketing and advertising part, ends up being way down the list of financial wants and needs. This is one of the important reasons that we invest in our chamber of commerce. We need the networking, the resources and promotional opportunities that our chamber offers us. It offers ways to give back to the community and to sustain the interest in the city's growth, infrastructure and utilities, educational opportunities, and community betterment. Until you invest in the chamber and you become knowledgeable of all that it has to offer, it may be difficult to understand the many advantages. Every day of every week your chamber staff is at work for its members, helping to sustain a profitable and workable city.
Shopping, hiring and investing local (in your business organization) does make "cents" for New Braunfels and you!