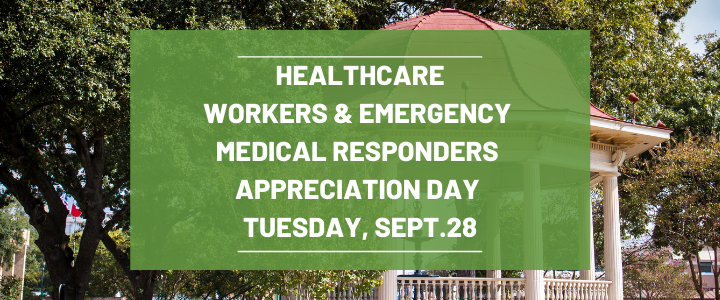 During these difficult times, our healthcare workers and emergency medical responders have stepped up to meet the growing medical needs of our community and have sacrificed much to aid in the fight against the pandemic. Their commitment to protect life, provide quality care, and ensure patient safety is and always has been critical to the welfare of our entire community, and many times their service goes without recognition and full appreciation of the circumstances they're facing.

Please join us in recognizing our local heroes on Tuesday, September 28 for New Braunfels Healthcare Workers & Emergency Medical Responders Appreciation Day. 

We are encouraging all New Braunfels businesses and residents to help show support. Some ways you can do this are:
Add a message of thanks/support to your business's marquee (here are some ideas).
Post on social media (feel free to use these resources).
Call or text a healthcare worker/emergency medical responder you know. Show them some extra love!