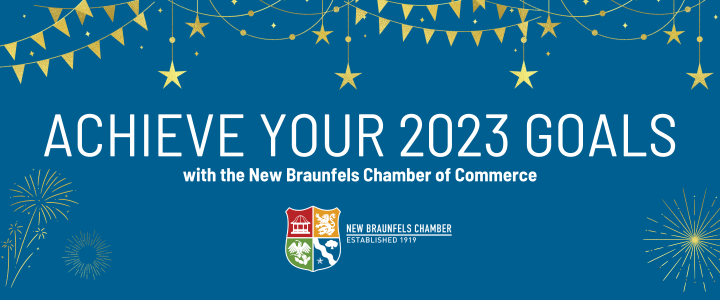 Opportunities to grow business are just around the corner!
Whether you hope to open a new business in 2023, grow your current business, or are just wanting to meet like-minded business people; joining the Chamber can help your entrepreneurial endeavors succeed in the new year. 
Membership with the Greater New Braunfels Chamber of Commerce provides opportunities for:
Publicity
Build your brand awareness in the New Braunfels community with an included Ribbon Cutting Ceremony that is shared in the local newspaper, on Chamber Social Media, and on our website. 
Improve your online presence and website authority with a listing of your business in our Business Directory, linked directly to your business' official website.
Be included in the yearly edition of The Official Guide to New Braunfels, which is distributed to businesses, tourism locations, and local informational spots around town! Over 15,000 copies of the publication are shared with the public.
Networking
Join us in Chamber events, where you can meet business-people and active community members of all backgrounds! These events include our annual Chamber Banquet, monthly membership mixers, and new member receptions.
Attend member-exclusive committees and programs to discuss community issues and interests: with over 10 committees to choose from, you're sure to find a place where you belong!
Business and Community Education
Learn about various business skills, programs, and more at our New Braunfels Business University Seminars - 2023 seminar dates & topics coming soon!
Be the first to know when applications open for the Leadership New Braunfels program, which consists of monthly "class days" around New Braunfels and teaches leadership, advocacy-focused skills, and information about our community and city infrastructure.
Learn more about Chamber membership HERE >