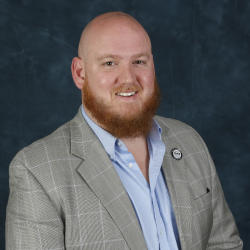 John Wylie Coker is Senior Manager, Media & Social Marketing at USAA. In this role, John manages media investments for USAA's Brand Advocacy campaigns including sponsorships of the NFL, NBA, MLB, Army-Navy game, and other events/programs, as well as the brand's marketing campaigns for Veterans Day, Memorial Day, Military Endemic, & Print advertising. John also manages USAA's Media Placement Policy, governing the brand safety & suitability of USAA's advertising.
John is from New Braunfels, Texas and attended Belmont University's Curb College of Entertainment & Music Business in Nashville, Tennessee. John's entertainment experience was developed through various roles at Warner Music Nashville, Country Music Television (CMT), Big Machine Label Group, and William Morris Endeavor. John still actively participates in the Texas/Red Dirt music scene, providing marketing support for artists in the Greater New Braunfels area.
Both graduates of Canyon High School, John and his wife Alyssa are passionate advocates of New Braunfels and their local community. John serves as the Chair of the CoNB Zoning Board of Adjustment, President of the New Braunfels Jaycees, Vice President of the Comal Education Foundation, Secretary of the Landa Park Golf Course Advisory Board, and Board Member for the Believers Buyers Group, among other various committees.