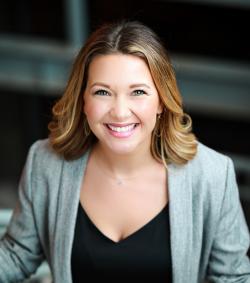 Jenny Wilson is the owner and CMO of 1845 Creative, a boutique marketing firm serving New Braunfels and the surrounding area, specializing in online brand management and promotional items. Jenny named her company after the founding year of New Braunfels as a nod to her respect and appreciation of this uniquely amazing community.
Jenny grew up in San Antonio, Texas and graduated from the University of Texas at San Antonio with a Technical Communications degree. Jenny has 10+ years in multi-level corporate branding, B2B and online retail marketing for multiple industries.
Jenny and her husband Patrick are proud dog parents and love supporting the Humane Society of the New Braunfels Area. They spend their weekends carting around downtown to all their favorite eateries and watering holes.
After visiting New Braunfels weekly, Jenny and her husband Patrick left Schertz and moved to New Braunfels in 2018. In addition, to the New Braunfels Jaycees, Jenny also serves on the Downtown Board, Zoning Board of Adjustment, Bond Advisory Committee, and Greater New Braunfels Chamber of Commerce.