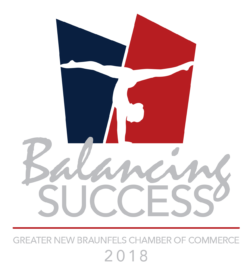 Hello, and Happy New Year! As your 2018 Chair of the Board for the Greater New Braunfels Chamber of Commerce there are some things you may wish to know about me and my plans for the upcoming year.
First, I have loved New Braunfels my entire life (3rd generation resident) and can think of no greater place to have grown up in or to work and raise a family. Second, I started my business here in 1990 at age 25 and have been blessed to have had it grow along with our community. Third, I am far from perfect and also recognize our community is not perfect, but I am proud to labor with others every day to make ourselves and our city the best possible.
As we strive at "Balancing Success" it is with the knowledge that the process to achieving balance requires constant training, evaluation and correction. I look forward to working with businesses, schools, city, county and state officials, and individuals in the Chambers' efforts to continue making New Braunfels a great place to live, work and play.
My business is instructing area youth in Gymnastics, Cheerleading and Dance which means we are constantly instructing the importance of balance for success. The same physical process of goals, education, training, feedback, and more training to master and maintain skills is relevant in all aspects of life.
Your Chamber identifies goals through multiple chamber committees that seek input on issues that affect our city and all businesses within the area. Your Chamber stays educated through constant research and attending an array of relevant conferences and symposiums. Training for your Chamber is implementing the Plan of Action the Chamber board creates each year using member surveys. Feedback for the Chamber is derived from their ongoing evaluation of member engagement and input. With feedback in hand the Chamber returns to training mode where they implement improvements and make adjustments to systems.
Your Chamber is effective because the staff and membership are never satisfied with the status quo, they are always seeking ways to improve. It is my pleasure to join fellow Chamber members in our ongoing efforts to make the Chamber even better.
As Chair of the Board I see my role as working with Chamber Leadership to not only have the Chamber itself continue "Balancing Success" but more importantly provide support and resources to help our business community, schools, city and county governments in their efforts in "Balancing Success". We are blessed to live in a town where so many invest their time and talent for the common good. Your Chamber encourages all newcomers to become involved so that our hometown values are maintained even as we grow.
Those before us laid a foundation upon which a great city has thrived. It is no surprise others wish to join our community. I believe that as we continually tell our story to new residents they will realize that community service and involvement is what makes us great. If we can balance involvement and growth I believe we can maintain our community culture and hometown feel. Working to expand community involvement will be one of my specific areas of focus this year.
I am excited at this opportunity to serve the Chamber and especially to contribute to this city which I love so much.

Robin Jeffers
2018 Chair of the Board
Greater New Braunfels Chamber of Commerce, Inc.