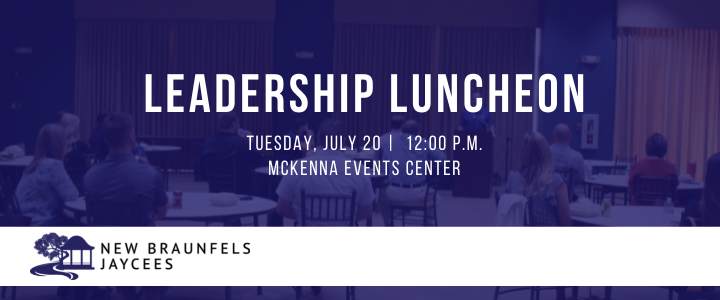 The New Braunfels Jaycees will hold their monthly Leadership Luncheon at 12:00 p.m. on Tuesday, July 20 at the McKenna Events Center. The Jaycees Board of Directors will provide a presentation about their history, what events are coming up and how to maximize your membership with the premier young professionals' organization of New Braunfels.
Lunches are FREE to attend for Jaycees members and $10 at the door for non-members. Lunches are open to anyone so bring a friend or coworker. Must pre-register online HERE.
The New Braunfels Jaycees (Junior Chamber) is the community's young professionals organization. They create an environment for aspiring leaders to grow their network, engage in the community, develop professionally, and create a better New Braunfels through volunteerism and philanthropy. For more information visit www.NBJaycees.com.