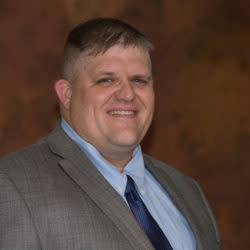 By Brandon Dietert
2017 Chair of the Board
Growth & Prosperity
As we start a new year, I would like to introduce myself as the 2017 Chair of the Board of the Greater New Braunfels Chamber of Commerce. As a life-long resident of New Braunfels and a member of the 6th generation of my family here in Comal County, it is a great honor to have been asked to take the reins of the Chamber for the year as we are "Linking Business and Community Success".
As is the tradition with the start of a new year, we all like to make resolutions that lead to growth as an individual and improved or continued prosperity in life or work. These are also two traits that come in handy when in discussion about the vibrant city we call home…New Braunfels.
New Braunfels is at a crossroads right now that puts us in the middle of the transition from the quiet German town with tubing in the summer and Wurstfest in the fall and the vibrant growing metropolitan city that we are growing into with a true year around tourist season, diverse business climate and opportunities around every corner. This growth over the next decade and beyond will continue to challenge our residents, our businesses and our civic leaders.
These challenges will try to bend New Braunfels in ways and directions that some of our citizens might not like, but I feel that the strong people and cultures that made New Braunfels successful in the past will also guide it to our future…a city where we have a strong connection with our past, a diverse and growing cultural backbone, a thriving economy where our families can make a prosperous living and where our children can grow up, get a great education and then grow and prosper with their families!
To accomplish these tasks it is going to take a continued partnership of all the talented and dedicated people and organizations that make New Braunfels special. We need to keep welcoming the people and growth that is migrating into the city because that is what New Braunfels has always done. We are a community that encourages participation and you never know where that next great person, company or organization might come from that will help New Braunfels continue to be jewel in the Texas Hill Country that it is.
Again, I look forward to serving the Chamber and the city in the coming year and wish everyone a year of growth and prosperity in whatever you wish to accomplish…Frohes neues Jahr! (Happy New Year!)

Brandon Dietert
Greater New Braunfels Chamber of Commerce, Inc.
Chair of the Board