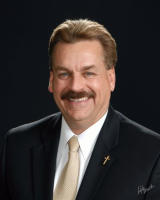 By Mark Hampton, 2014 Chair of the Board
Happy New Year from the Greater New Braunfels Chamber of Commerce! With 2013 in the books, we look for new opportunities for this year. But before we look at what is on the horizon, let me take a minute to thank Sandy Kibby, the 2013 Chair of the Board for the Greater New Braunfels Chamber of Commerce. Sandy has been a giver of her time, talent and her treasures. Because of Sandy's involvement in our community, her contributions have made New Braunfels a better place to live. So, I want to thank Sandy for her friendship and her commitment to lead. Thank you, Sandy.
Did you realize that the Greater New Braunfels Chamber of Commerce is one of the most successful Chambers in the state of Texas? That's correct, I said the state of Texas. And this is very significant when you consider that Texas leads our country in creating jobs;  Texas leads our country in growing the economy; and it is the United States that drives the global economy. This no doubt puts the Greater New Braunfels Chamber of Commerce and the City of New Braunfels in a very positive and bright light.
The success of the Greater New Braunfels Chamber of Commerce does not happen by chance or coincidence. Our success is due to 1) membership involvement 2) a great staff 3) leadership 4) a strategic plan and implementation of that plan. It's not one of two of these factors but all four. It takes teamwork in all four areas for continued success.
I think we can all agree that the New Braunfels area is experiencing a lot of great opportunities. With these opportunities come challenges. In order to improve our efficiency in these opportunities, we must continue to promote and improve our teamwork.  I've asked our board members to be proactive on community initiatives that are in line with the purpose of this organization. Businesses need to assume more responsibility in leading. Having a seat at the table is certainly better than being on the menu. But having a larger seat at the table and leading gives businesses a better opportunity of being successful. Our retreat facilitator last November encouraged us to make a difference, to be visionary, to speak out and have some fun along the way.
In my profession as a Texas REALTOR®, I look at challenges in real estate from the prospective of what is the highest and best use of the land. Our precious and historic downtown is evolving and uses have already been established.  It is important to our city to make sure that our downtown stays vibrant. For continued growth and prosperity we must be proactive in all issues related to water and transportation. I pledge that we will continue to seek every avenue to help increase water quantities that will sustain us and help us grow. With New Braunfels being thrust into the San Antonio MPO, we will need strong teamwork in order for our community to receive the attention it needs for our transportation demands.
Sounds like fun, huh? Well it can be but it is going to require your input and your involvement. After all, if you want to get the most for your membership dues, the best advice I can give is for you to "Get Involved".  Your Chamber will be working on all of the things I mentioned above along with helping the city accomplish its strategic economic development goals.
Remember, TEAMWORK TODAY DETERMINES SUCCESS TOMORROW.
Mark Hampton
2014 Chair of the Board