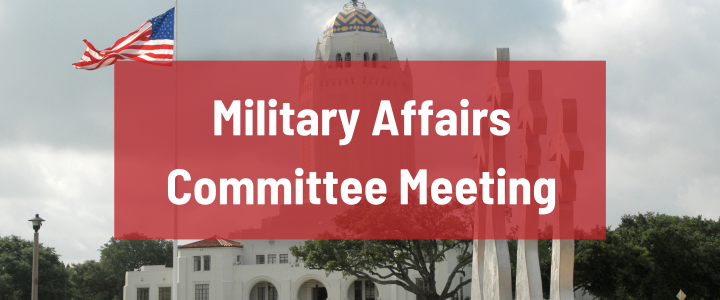 The Military Affairs Committee works to enhance relationships between the New Braunfels community and the military, particularly those Airmen stationed at Joint Base San Antonio - Randolph. Since 1968, the committee has hosted a quarterly reception for an Outstanding Airman from Joint Base San Antonio - Randolph to demonstrate our appreciation, ongoing commitment, and support to all who serve our nation. This committee is for our military community and our members who want to learn more and actively support those military members here in New Braunfels! If you are interested in joining this committee, CLICK HERE!
The Military Affairs Committee will meet Wednesday, July 19th at 11:30 a.m. in Honors Hall to discuss regular updates to the committee as well as the plans for the Airman of the Quarter Reception coming up on Tuesday, August 8th.
Join us in Honors Hall for our quarterly luncheon ahead of the Airman of the Quarter Reception.
We'll provide a few updates, hear from a representative of Randolph Airforce Base's Community Outreach Committee, and collect donations for the gift basket that will be provided to the awarded airman.
Donation ideas include but are not limited to:
Accommodations
Tickets to local attractions
Gift cards to local restaurants
Cash donations
We encourage you to bring your donation at this time, but you are welcome to bring donations to the Chamber office anytime between now and the morning of the event on Tuesday, August 8th.
Lunch is $15.00 per person and will be catered by Schlotzsky's. Lunch includes a small oven-baked sandwich of your choice, chips, and a cookie.