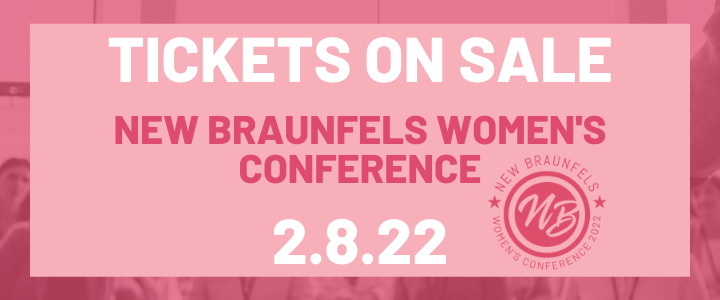 The New Braunfels Chamber of Commerce's Women's Business Alliance is proud to bring an Annual Women's Conference to New Braunfels and the surrounding area on Tuesday, February 8, 2022.
Inspire, Connect, Empower - the New Braunfels Women's Conference is a one-day event for women to personally and professionally grow. Hosted by the New Braunfels Women's Business Alliance, this non-profit event will feature inspirational keynote speakers, skill-building breakout sessions and plenty of opportunities to develop new relationships.
Whether you're new to the workforce, an expert in your field, or simply trying to figure out your next move, you'll be sure to leave this conference with resources to succeed. Get ready to learn, grow your network, and be inspired, connected, and empowered.

Details
11:00AM-12PM: Registration & Exhibitor Fair
Doors open at 11:00 a.m. for attendees to check-in, get their "must have" swag bags and check out the Exhibitor Fair prior to the program kick-off and lunch.
12:15-1:15PM: Luncheon & Opening Keynote Speaker
Lunch is included with every registration and will be served while we hear from our opening keynote speaker Amy House, founder of Growin' Out Loud Darlin'.
1:15-2:00PM: Break & Exhibitor Fair
Enjoy a quick break before jumping into the rest of the day by visiting the Exhibitor Fair. A wide variety of local businesses will be showcasing their products and services.
2:00-2:45PM: Breakout Session #1
2:45-3:30:PM: Breakout Session #2
Choose from five speakers and topics during the breakout sessions. Each attendee will have the opportunity to choose and hear from two different speakers, curating the perfect experience for their personal interests.
3:30-4:00PM: Closing Keynote Speaker
Stephanie Scheller, founder of Grow Disrupt, will wrap the day's session as our closing keynote speaker.
4:00-5:30PM: Happy Hour
Make plans to join us for happy hour to network and continue developing those new relationships you've made throughout the day. Wine and treats will be provided, and you won't want to miss the incredible raffle prizes we will have!
Sponsor
Sponsorships are available for the Inaugural New Braunfels Women's Conference. Interested businesses and individuals can reach out to Alyssa Coker at Alyssa@InNewBraunfels.com for more information.