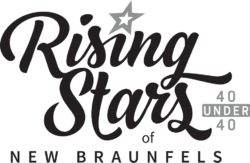 The New Braunfels Jaycees, along with the Greater New Braunfels Chamber of Commerce and New Braunfels Herald-Zeitung, are proud to announce the inaugural class of Rising Stars of New Braunfels have been selected. This 40 under 40 award recognizes our community's young leaders who are making a positive impact in their professional and civic endeavors.
The 40 winners were selected from 126 qualified applications that were received. To be considered, an applicant must be under the age of 40 on December 31, 2017, live or work in New Braunfels, and have made significant contributions to the community through continued success in their professional or community service activities. These Rising Stars are on a trajectory towards being New Braunfels next generation of outstanding leaders.
A Gala celebrating the winners will be held on Friday, December 15 at the Courtyard by Marriott River Village. During the Gala, one special awardee will be announced as the winner of the 2017 Distinguished Young Leader Award. Along with this exciting announcement, the evening will include a social hour, served dinner, brief remarks, and the presentation of a plaque commemorating this honor to each awardee. Tickets to the Gala will be available to the public on October 16.
2017 Rising Stars of New Braunfels:
Amanda Anding, 36, HMT
Lori Archer, 36, Alamo Hy-Tech
Rashmi Bhat, 24, Bonjour Texas
Chris Brockman, 35, New Braunfels I.S.D.
Shelley Bujnoch, 39, Paychex INC
Lizbeth Chapa, 32, NB Regional Rehab
Jennifer Cain, 29, City of New Braunfels
Darren Classen, 37, Classen Construction
Jen Crownover, 38, Comal County
Ashley Scott Davison, 39, iniosante inc
Christa De La Garza, 34, CHRISTUS Santa Rosa Hospital
Dani Fuselier, 33, Broadway Bank
Russel Gribble, 34, Broadway Bank
David Hubbard, 36, New Braunfels Utilities
Alice Jewell, 36, McKenna Foundation
Jeffery Jewell, 36, National Development Council
Travis Krug, 27, South Texas Woodworks
Lilia Marek, 38, Rougeux & Associates
Shannon Marek, 39, Texas Digestive Disease Consultants / Papa's Car Wash
Justin Meadows, 37, State Farm
Douglas Miller, 34, Miller & Miller
Kendra Miller, 36, HMT
Justin Morley, 37, Langley & Banack, Inc.
Brett Mosher, 36, Oakwood Church
Amy Niles, 26, City of New Braunfels
Tracey Norris, 39, Property Professionals
Mark Parmerlee, 28, On The Grind
Gisselle Price, 33, Bluebonnet Marketing
Ian Perez, 37, Raba Kistner
Amber Riedel, 38, Family Birth Center
Randy Rogers, 36, Randy Rogers Band
Tillman Roots, 34, Comal County
Dustin Seidel, 39, Seidel Construction
Jennifer Tharp, 39, Comal County
Thor Thornhill, 39, HMT
Rebecca Villarreal, 39, New Braunfels ISD
April Weilbacher, 34, 2tarts Bakery
Brooklynn Willy, 38, Texas Financial Advisory
Corbee Wunderlich, 38, Comal ISD
Ashley Woodward, 36, Resolute Health Hospital