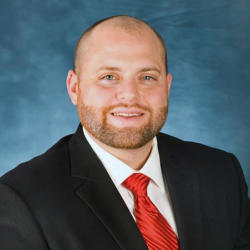 Born and raised in Corpus Christi, Texas Ian Perez moved to College Station in 1998 to study Civil Engineering at Texas A&M University. He ended up staying a few extra years to earn his master's degree in Geotechnical Engineering. Perez interned at Raba Kistner Consultants starting his junior year in college (2001) and was hired immediately after he graduated to work as a project engineer in San Antonio in 2005.
Perez became a professional engineer in 2008 and married the love of his life, Jocelyn Poloskey in May of 2012. A few days after they were married, the New Braunfels Chamber of Commerce held a ribbon cutting for Raba Kistner's New Braunfels office (he and his wife were on a beach in Mexico). Perez and his new wife moved to New Braunfels in August of 2012 so that he could run the New Braunfels Raba Kistner office. Their daughter Leila was born February of 2014 and their son Nicholas followed shortly thereafter in July 2015. They attend Saints Peter & Paul Catholic Church, visit their families as often as they can stand, and root heartily against each other's football teams every chance they get (Jocelyn went to that other school).
Fun Facts:
What was your favorite toy growing up? When I was growing up my favorite toy was any board game. But I was an only child so they were pretty boring—winning monopoly was really easy and I had an eerie ability to predict my opponent's next Connect4 drop!
If you could have dinner with anyone, past or present, who would it be? For personal enlightenment, the Dalai Lama. I just feel like being anywhere near the man has to be an amazing experience. I think I would just be in complete awe. If I just want to shoot the breeze with someone, Adam "MCA" Yauch of the Beastie Boys.
If you could have one super power, what would it be? Teleportation. I wouldn't be late or ever need a DD again! Imagine the Uber dollars I'd save. Double booked? No Problem! How is Ian EVERYWHERE at once!?