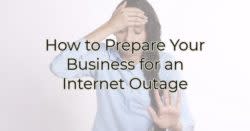 We have a joke here in Florida that it's not so much the hurricanes that cause panic and dread but the idea that we could be without air conditioning. You may have a similar concern over your business' internet. If you heard about the recent Comcast Xfinity "external network issue" outage that affected 40,000 customers across the U.S. on a Monday afternoon for no apparent reason, you may be rethinking your business internet structure.
But what can you do? You can't function without the Interwebs.
Here are a few ways you can continue with business as usual, assuming your electricity is not out, or the outage is due to a much larger regional issue like impaired cell towers that affect multiple carriers and providers.
Purchase a Hotspot Backup or Tether Your Phone
If your business is the size of Amazon, a hotspot likely won't service your needs but if you're on the smaller side you can hobble by on one until service is restored. There are dedicated hotspot routers or you can tether your smartphone and use it as one. The problem with tethering is that it can be quite expensive, especially if you don't have unlimited data.
Some WiFi options let you pay as you go so you only pay for when you use it. Karma works this way. You buy a device and then pay when you turn it on. Freedompop offers a free hotspot but it's limited in geographical areas and you must complete partner offers for free data.
Relocate Temporarily
If your business is agile enough, you can relocate to an unaffected area or secondary office, if you have one. Some incubators and co-op workspaces may be able to help you temporarily. Even your local library could be an option. With the cloud, you might be able to run your business from a completely different location with a few quick phone calls.
Check with Your Chamber
Should you experience a non-weather-related outage, you may want to check with your local chamber on community internet service options. No one is plugged into your business area like the chamber is. They'll let you know if they can help directly or refer you to someone who can. Your city may also offer free internet and they may not be down.
Finally, make sure you have your internet service provider's phone number somewhere other than Google. So many of us rely on the formidable search engine as our phone book these days. If your internet access is impaired, you'll want to call your ISP. There's nothing more frustrating than not being able to find that number. Keep it (and your account number) on paper or on your smartphone so you're always prepared.