This content is provided by Connally Plumbing, a plumbing company serving New Braunfels, San Marcos and the surrounding areas, and a member of the New Braunfels Chamber since 2016.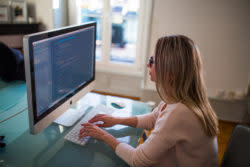 Whether your business just hopped on the blog train or has been blogging for a while, you want to make sure that you're optimizing each post for SEO. Blogging for your business should be strategic; there needs to be a rhyme to your reason. That being said, if you're blogging just because someone told you it would help boost your clientele or sales, it's time to learn a little more about how to make the most of your blogging efforts.
Use Keywords.
You've spent time researching the best keywords for your industry, and hopefully you've already worked to place them strategically within your website and any PPC advertising. But don't stop there. Your blog posts provide the perfect space to use keywords, resulting in higher domain authority and relevancy. The most effective place to use keywords is in your headings and subheadings.
Caution: Avoid stuffing your blog posts with keywords. Google will catch on to this and could label your site as spammy. Choose one keyword per blog post, and focus on using it where it naturally fits. 
Link Internally.
This is one of the easiest and most overlooked tips around! Whenever you can, link to past blog posts or your relevant web pages. This keeps readers on your site and shows that you have great content. Try to include at least one internal link per blog post. 
Title Images.
High-quality images engage readers. If your blog posts include images, did you know that you can even use those to optimize your SEO? Give your images descriptive titles that include keywords. Don't upload an image with the file name "IMG_1234."
Additionally, be sure to assign alt tags to your images. Alt tags describe what an image is for those using screen readers, or if the page doesn't load correctly. Even though these tags aren't the bulk of your content, they provide a great space to use relevant keywords and boost your SEO.
Keep it Simple.
You want your blog post to be inviting to your readers. Make it easy to scan by using bulleted lists, short paragraphs, and headings. Bold important things for the skimmers out there.
Caution: There's a fine line between simple and insufficient. Don't be so focused on crafting a short blog that you publish something that doesn't benefit your readers. Quality is key. People are coming to read something they don't know and to learn something that is valuable. Create quality content first, and then work on making it simple and appealing.
Blogging is a great way to increase traffic and show potential clients what you have to offer. Make the most of your hard work by following these tips to optimize your posts for SEO.
Happy blogging!