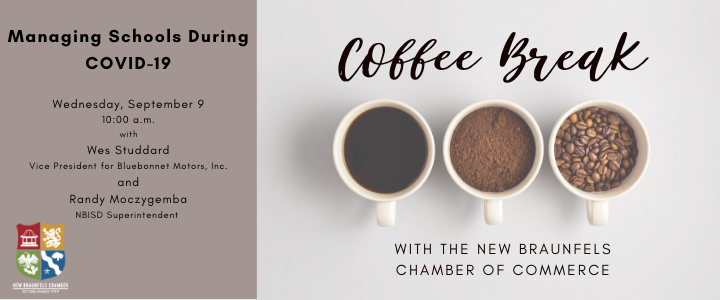 The Chamber prides itself in supporting and advocating for its members. The onset of COVID-19 does not change this belief, it has merely emphasized it for Chamber staff. The Chamber is hosting a bi-weekly webinar series to assist members with the fast-paced changes they are facing in the workplace and in the community.
On Wednesday, September 9, Chair of the Board and Vice President for Bluebonnet Motors, Inc., Wes Studdard along with Randy Moczygemba, New Braunfels Independent School District Superintendent will discuss how schools are managing with COVID-19 still a forefront nationwide.
This webinar will provide members with valuable tools and information on how a school superintendent is keeping his staff and students safe amid a worldwide spread of the COVID-19 virus. "Managing Schools During the COVID-19 Pandemic" will be the second webinar that the Chamber is providing to its members.
All Chamber members will be emailed meeting details.
For more information contact Phyllis@InNewBraunfels.com.