The Chamber's 15th Annual Back To School Luncheon is set for Thursday, August 10, 2017, at 11:45 a.m. in the Seekatz Opera House in downtown New Braunfels. A program of the Business-Education Partnership (BEP) committee, this event takes time out to recognize and honor area Teachers of the Year from more than 12 schools and school districts in the central Texas area.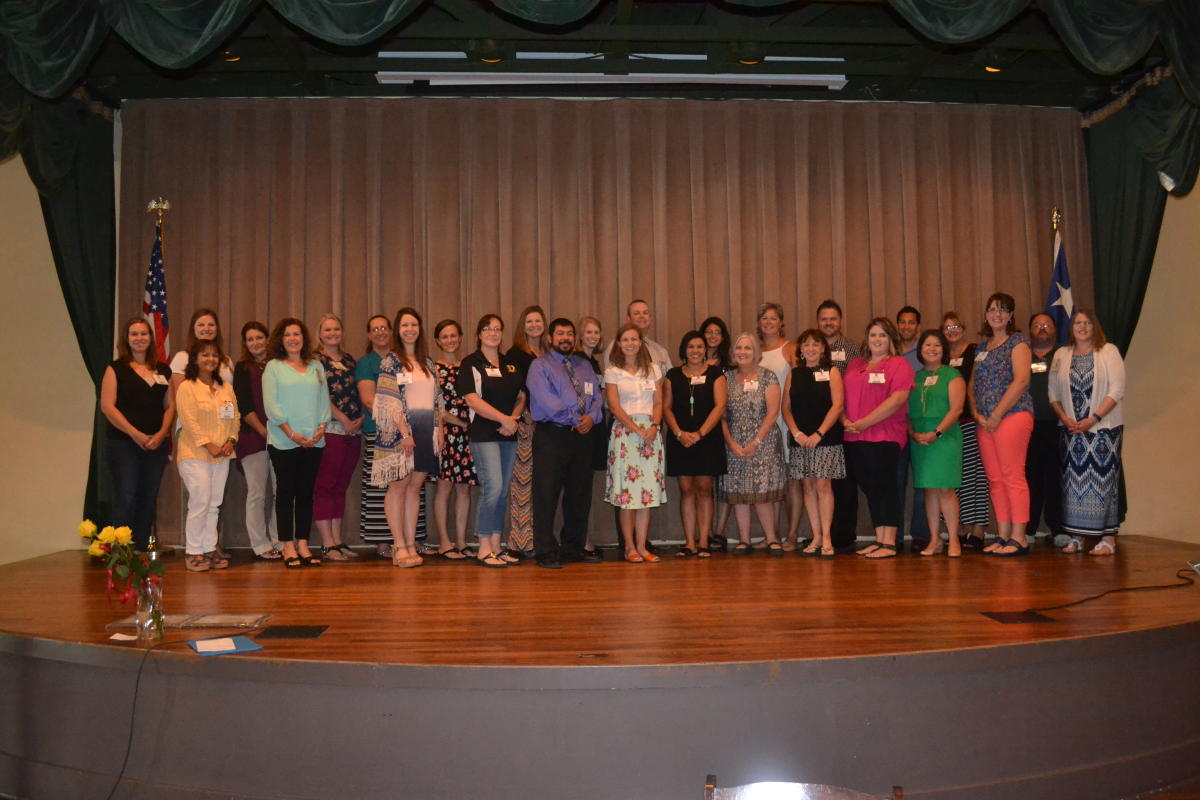 In an effort to show support for the schools in New Braunfels and Comal County, the BEP created this event as a way to connect business and education thus achieving the goals of the Chamber's committee. The honorees are selected by their home schools, and then compete at the district level for primary, elementary, and secondary Teacher of the Year.
The event is sponsored by area businesses and is limited to 120 attendees, due to space. Since there are sponsors, there is no charge to attend. The honorees are joined by family members, campus and central office administrators and school board members. The BEP committee members are all involved in the planning and program for the day. The teachers are presented with a certificate and yellow rose.
Speakers in the past have represented the Texas Education Agency, State Board of Education, State Legislators, and panel discussions involving area superintendents and their board members. This year's speaker is Retired Navy Officer Calvin Lambert. Mr. Lambert was selected as the 2016 Secondary Teacher of the Year from Uvalde ISD. He is the JROTC Commander at Uvalde High School.
This Chamber event showcases the heart and soul of public education—the Teachers! This year's honorees are shown below. For more information on this program, contact the Greater New Braunfels Chamber of Commerce.
Craig Lenard – 2017 Teacher of the Year, Boerne ISD
Tammy Toye – 2017 Elementary Teacher of the Year, Comal ISD
Celeste Nored – 2017 Secondary Teacher of the Year, Comal ISD
JoAnna Wold – 2017 Pacesetter of the Year, Communities in Schools
Kathy Walsingham – 2017 High School Teacher of the Year, Marion ISD
Jeanette Batey – 2017 Primary Teacher of the Year, Marion ISD
Katie Hunter – 2017 Primary Teacher of the Year, Marion ISD
Christen Schoen – 2017 Middle School Teacher of the Year, Marion ISD
Jessica Westerholm – 2017 Elementary Teacher of the Year, Navarro ISD
Janet Thompson – 2017 Intermediate Teacher of the Year, Navarro ISD
Amanda Jenner – 2017 Junior High Teacher of the Year, Navarro ISD
Tiffany Huff – 2017 High School Teacher of the Year, Navarro ISD
Stacy Guerrero – 2017 Early Education Teacher of the Year, New Braunfels Christian Academy
Breah Belew – 2017  Elementary Teacher of the Year, New Braunfels Christian Academy
Sarah Simmons – 2017 Middle School Teacher of the Year, New Braunfels Christian Academy
Allison Carl – 2017 High School Teacher of the Year, New Braunfels Christian Academy
Brande Schriewer – 2017 Elementary Teacher of the Year, New Braunfels ISD
Lt. Col. Mark House – 2017 Secondary Teacher of the Year, New Braunfels ISD
Robert Barbettini – 2017 Teacher of the Year, Premier High School of New Braunfels
Brittany Bouzard – 2017 Elementary Teacher of the Year, San Marcos CISD
Mario Contreras – 2017 Secondary Teacher of the Year, San Marcos CISD
Iris Harris – 2017 Elementary Teacher of the Year, Schertz-Cibolo-Universal City ISD
Joey Trevino – 2017 Secondary Teacher of the Year, Schertz-Cibolo-Universal City ISD
Jennifer Stone 2017 SACU & KENS-5 Golden Apple ExCEL Award, Schertz-Cibolo-Universal City ISD
Allison Miller – 2017 Norma Paschal Commitment to Children Award, Schertz-Cibolo-Universal City ISD
Joseph Cantu – 2017 Elementary Teacher of the Year, Seguin ISD
Megan Dodd – 2017 Secondary Teacher of the Year, Seguin ISD