In 2019 the New Braunfels Chamber of Commerce is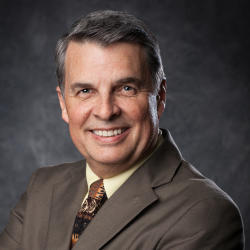 celebrating 100 years. Over these past 100 years the official name has evolved, but the mission has remained the same and that is to promote a better economy and a better city. Each Sunday in the Herald-Zeitung we are featuring space dedicated to "This Week in Chamber History". This is the fourth month for a review of the previous four featured accomplishments.
On April 9 we celebrated the actual founding date (April 9, 1919) with a wonderful reception at the New Braunfels Civic Convention Center. It was very special to honor over 22 local organizations and or businesses that have operated for at least 100 years, just like the Chamber. The actual organizational meeting for the Chamber of Commerce was held in the Comal County Courthouse. The purpose stated was "to promote the commercial resources of the city and to advocate advanced methods in municipal affairs". Our mission or purpose today is very similar in that the bylaws call for us "to promote civic and commercial progress". As our 2019 Chair of the Board Shane Wolf likes to say, "Where Community and Commerce Meet."
Just four years later in April 1923, the first stock show for Comal County was scheduled for that November 23. Who organized it? Your Chamber of Commerce, along with the then-Livestock Association. The Chamber also sold stock for the Fair and turned over the operations to the newly named Comal County Fair Association. Many times this process would repeat over the next 96 years whereby the Chamber saw a need, filled it, got a group up and running to handle it, and then moved on to other needs. Other examples are the United Way, Communities in Schools, Wurstfest, and many more.
This coming May 4 the community will be voting on a City bond proposal. It was April 1954 when the Chamber called for another bond election, this time to purchase right of way for an "alternate route" now known as Loop 337. Just this past April 9 on our 100th anniversary, the first section of the newly widened Loop 337 opened for traffic between River Road and State Highway 46. I could not have written this script! Sixty-five years ago, visionary leaders stepped outside the comfort zone of popularity and created the opportunities we enjoy today. That's leadership!
Fast-forward to 2008, just eleven years ago, and the Center for Entrepreneurship was born. Your Chamber of Commerce worked with the then-NBIDC (now NBEDC), also known as 4B board to create a place for start-up companies and small businesses to receive assistance in order to help them thrive and/or survive. Today the SPARK SBDC operates five days a week, 8-5 to assist this important industry segment.
Our founding, organizing the County Fair, being a catalyst for increased mobility options, and entrepreneurship initiatives were the subjects of our most recent "This Week in Chamber History" remembrances.
Success Flows Here!
Michael Meek
President/CEO