In 2019 the New Braunfels Chamber of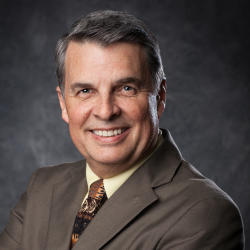 Commerce is celebrating 100 years. Over these past 100 years the official name has evolved, but the mission has remained the same and that is to promote a better economy and a better city.
Each Sunday in the Herald-Zeitung we are featuring space dedicated to "This Week in Chamber History". A lot of research went into coming up with the "Top 50" accomplishments and my hat's off to the volunteer committee that spent many hours combing through board minutes all the way back to 1919! For my columns this year, our goal is to review the previous ones between columns and to maybe add some closure to that history.
In 1944 the City Charter was passed 513-87 after extensive work by the Chamber actually writing it and publicizing it. Then in 1948 we assisted the city to change local government from a City Commission to a City Council-Manager form of government. That proposition was successful also. Why would a business organization care about the form of local government? From the founding of our Chamber in 1919, one of the two purposes stated was to "improve municipal governance methods". Citizens knew then that it took everyone, business, citizenry, and local government to truly create a great community. Having a professionally trained and experienced city manager was an integral part of that equation and has remained so for the last 71 years.
Around that same time (1945), the Chamber created a committee to study the fairly new Landa Park and create a Park Board. The first nine members of the New Braunfels Park Commission were selected by the Chamber and they acted in the capacity to maintain and beautify the park. It was just a decade or so earlier that the Junior Chamber of Commerce (Jaycees) had led the effort to get the city to purchase the property. Likely after a decade the Chamber saw the benefit of having a dedicated oversight group to ensure it stayed maintained and even further improved. Why? Business leaders live here, too. They want quality amenities for their employees and families. Time after time and project after project, it has been business leaders via their Chamber that stepped up to the plate to make sure this happened.
Fast forward to 2003-2005 timeframe. Competition for good jobs was intensifying and it was thought that Toyota would soon be announcing where their next North American facility would be. Your Chamber believed that it would be in San Antonio and saw that in future years, suppliers to the plant might land here in New Braunfels. A campaign was started called Forward NB to raise funds to "up our game". From that campaign came forth the Greater New Braunfels Economic Development Foundation. The Foundation played a key role in bringing CGT, a tier one automotive supplier here in 2015. Seeds planted ten years earlier sprouted into good paying jobs for citizens and increased tax base for the community.
Success Flows Here!