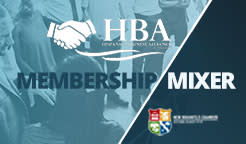 The Chamber's Hispanic Business Alliance will host a Membership Mixer on Thursday, October 3 from 5:30 to 7:00 p.m. at Vicky's Hinterhof. You do not have to be a member to attend but members will receive two free drink tickets.
The mixer is open to everyone – individuals, businesses, and corporations – so bring a friend, client or colleague with you. This is a great opportunity to join the HBA or get more involved with the organization, become more engaged in your community, be a part of something bigger, and make some great connections while mixing and mingling in a fun environment.
The Hispanic Business Alliance is a special division of the Greater New Braunfels Chamber of Commerce, Inc. created to support and encourage Hispanic participation in the New Braunfels business community. They will strive to increase Hispanic business formations, increase Hispanic involvement in the community, and to provide enhanced access to services and products in the Hispanic business community.