Did you know that your Highway Visitor Center has helped serve over 10,000 visitors in the past year? Your Chamber's CVB couldn't do it without the help of dedicated Visitor Counselors. Nearly 80 Visitor Counselors volunteer their time and expertise to ensure all visitors leave with the proper information and a smile on their face. Collectively they have over 430 years of service, and three of them have been with the program for more than 15 years.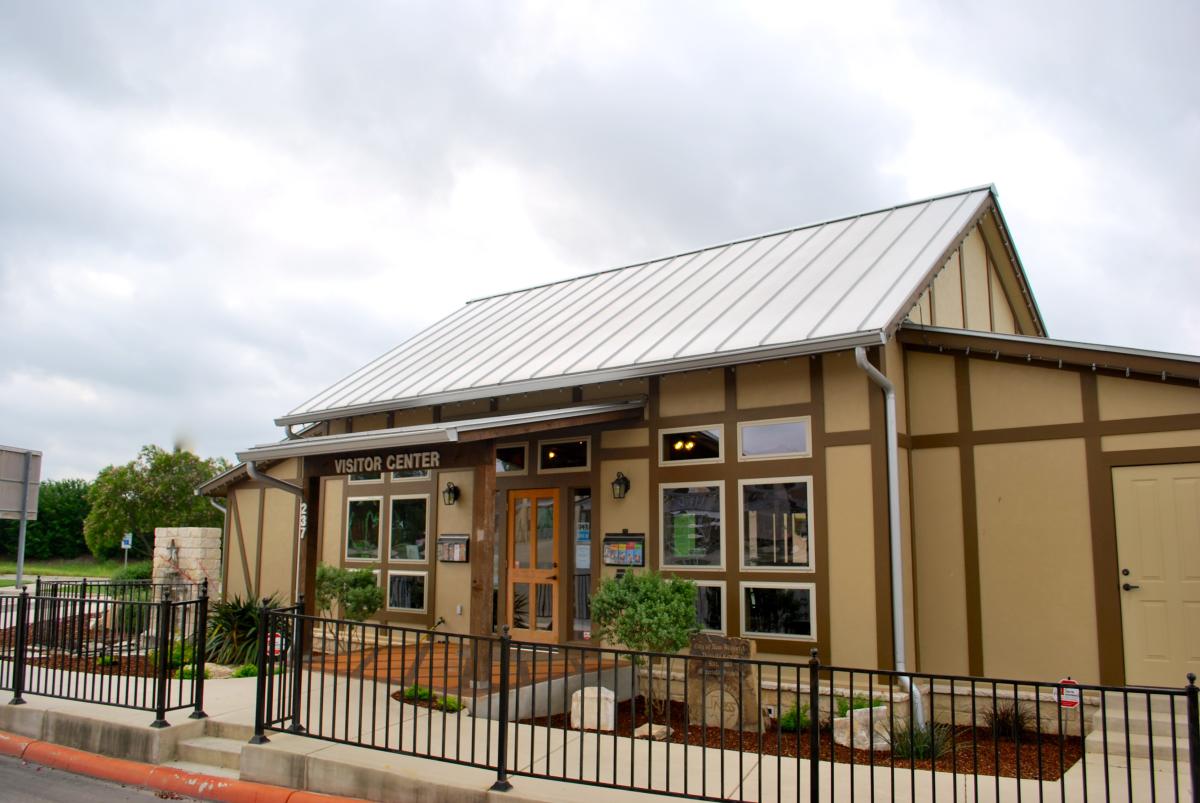 In addition to being a resource for visitors, who often times need a map, or recommendations on the best place to eat, the Highway Visitor Center is a full service stop for new residents, and those who are well-seasoned. Having this facility at one of New Braunfels primary gateways adjacent to IH 35 gives the community more of an identity with visitors and residents. The building definitely provides a nod to our German heritage with traditional Fachwerk and the final touch is the tin roof.
Another benefit of your Chamber Membership is the ability to place brochures at both the Highway Visitor Center and the Chamber lobby for no charge, based on available space.
About the Highway Visitor Center
Address: 237 IH 35 New Braunfels, TX 78130
Phone: (830) 625-7973
Hours of Operation: 9-5 M-S, 11-3 Sun. 363 Days a Year, Closed for Thanksgiving and Christmas
Coordinator: Val Preusser val@innewbraunfels.com
Number of Volunteers: 78
Number of Staff: 1
Highway Visitor Center Volunteers
Gladys Bartling – 2002
Brett Becker – 2017
Carolyn House Bateman – 2006
Hannelore Brotze – 2006
Fred Budworth – 2009
Duane Burnaman – 2009
Tom Call – 2006
Karen Caples – 2013
Betty Clifford – 2006
Virginia Cockerham – 2006
Liz Coker – 2010
Coleen Cooper – 2007
Ed Copher – 2010
Don Cork – 2007
Sharyn Correia – 2013
Joann Davis – 2017
Me – Ray Dean – 2015
Bill Eanes – 2012
Kathleen Elbel – 2002
Janie Falgout – 2016
Dean Franke – 2011
Kathy Frost – 2016
Polly Gerko – 2013
Ed Glisky – 2002
Gretchen Goode (Good) – 2016
Rita Greene – 2010
Thomas Greenstein – 2015
Ann Hafer – 2009
Carl Hafer – 2009
Nancy Haini – 2014
Michael Hansen – 2015
Gib Harper – 2008
Dave Heefner – 2017
Don & Elsie Hildebrand – 2009
Robin Hillier – 2017
Kyle Hufft – 2016
Scott Jobe – 2016
Jan Johnson – 2009
Don & Dorit Knippa – 2009
Katrina Korpeck – 2008
Ken Kraemer – 2016
Jerrie Lay – 2014
Evelyn Leggitt – 2014
Susie Lester – 2016
David & Claudatte Lindsey – 2004
Julie & Doug Livingston – 2006/2010
Nan Lovejoy – 2017
Fred May – 2006
Billy Meek – 2007
Bernice Meyer – 2007
Marlene Michaels – 2009
Mary Mielke – 2015
Donna Mohrey – 2016
Rocky & Tina Molina – 2013
Pat & Doris Mollenhauer – 2013
Sandra Nordenhold – 2015
Susan Phillips – 2017
Lin Rose – 2008
Barron Schlameus – 2012
Dennis Schwab – 2006
Nancy Seymour – 2016
Stu Sherman – 2009
Mike Smetanka – 2013
Bill & Janie Sneed – 2014/2009
John Stover – 2010
Donna Tousley – 2016
Janice Vader – 2011
Howard Weliver – 2014
Geraldine Wesch – 2011
Roger Wigfield – 2007
Janet Willson – 2015