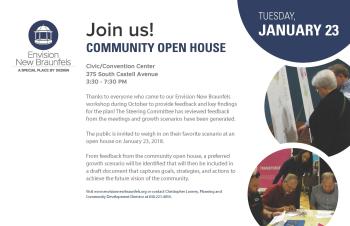 A Community Open House will be held on January 23 as part of the City's Envision New Braunfels process to develop a new Comprehensive Plan. The Open House will be held at the Civic Convention Center from 3:30 to 7:30. Attendees can come and go as it fits their personal schedules. There will be opportunities to interact, discuss and provide input on growth scenarios, future land use plan sub-areas, market centers, corridors, strategies and other options that the groups have developed over the last several months.
Feedback and key findings from the October meeting have been reviewed by the Steering Committee to generate growth scenarios. The public is invited to weigh in on their favorite scenario at the Open House. Feedback from the Open House will be used to identify a preferred growth scenario that will be included in a draft document that captures goals, strategies, and actions to achieve the future vision of the community.
Additionally, a poll has been uploaded to the Envision New Braunfels website at: https://www.envisionnewbraunfels.org/participate-in-our-online-poll/. This poll provides the general public an opportunity to weigh in on the goals and strategies if they were not able to attend the October 30th workshop.
A community's Comprehensive Plan provides long-range, community-identified goals and objectives to guide local and regional policy makers on all decisions. The current New Braunfels Comprehensive Plan was adopted in 1999 and last updated in 2006. The current community-driven planning effort, known as 'Envision New Braunfels,' will be drafted by nine subcommittees or Plan Element Advisory Groups. These groups are made up of approximately 300 interested citizens, residents, property owners and other stakeholders, with more being added daily.
For more details about this workshop, or Envision New Braunfels overall, contact Chris Looney at clooney@nbtexas.orgor (830) 221-4055. You may also follow the process online at www.envisionnewbraunfels.org, or on Facebook at www.facebook.com/NBCompPlan.