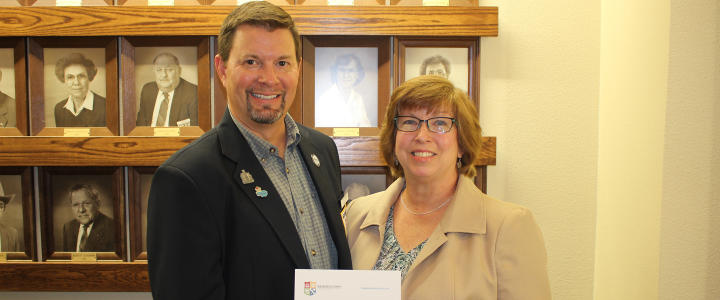 At today's Chamber Board of Directors meeting, Sherry Harrison received the Chair of the Board Award in the field of education for her service to the local education community via the NBISD School Board since 2009. This award is designed to honor individuals who have made a significant contribution to the community in a specific field of endeavor, and no more than six recipients may be named in a calendar year.
Harrison was first elected to the School Board in May 2009 and has served as Board Secretary, Vice President, and now President. While on the Board, the school district has passed two bond issues in 2010 and 2018, resulting in much needed facility improvements for the school children of the community. Programs instituted under her leadership have included the transition to K-5 neighborhood schools, the 1:1 student iPad initiative, problem-based learning, full-day early childhood programs, land acquisition for future campuses, competitive benefit packages for all employees, the purchase of the former Wells Fargo and Seele buildings for future administrative offices, the NBISD Ambassadors program, school resource officers, and more.
Harrison has been a resident of New Braunfels since 2000 and volunteers at NBISD elementary school libraries. She delivers Meals on Wheels, serves on the Board for the New Braunfels Theatre Company and Mid-Texas Symphony, and has worked on several City committees. The Harrisons have two daughters, both distinguished graduates of New Braunfels High School.
For these reasons and many more, Harrison is the fifth recipient of the Chair of the Board Award of 2019. J.P. Medina was honored in the field of youth development in April, in July Dr. Whitney Mitchell was honored in the field of education and Ian Perez was honored in the field of community improvement, and Jan Kinsgbury was honored in the field of tourism development in August. Harrison and her husband Matt will be invited as special guests to the Annual Chamber Banquet on January 31, 2020 where they will be further honored.