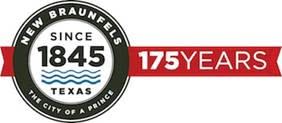 On March 14, 1845, Prince Carl of Solms-Braunfels Germany purchased 1,265 acres that would soon become the City of a Prince. Seven days later, on Good Friday, Prince Carl led the first settlers into New Braunfels, named after his ancestral German home, Braunfels, Germany. New Braunfels is the only city in the state that was founded by German royalty
Though much has changed from 1845 to today, the core principles set forth by the founders; hard work, progress, civic pride, and family devotion, have remained a steadfast way of life here. Celebrating the anniversary of our founding is a long-standing tradition. The city's grandest occasions come every quarter-century as New Braunfelsers celebrate with great ceremony and jubilation.
Join us in celebrating our 175-year history of cultural heritage, hard work, and "gemuetlichkeit" (the good life). New Braunfels has flourished ever since it was founded by in 1845. Be sure you have your window decal and Coffee Table Book to keep the celebrations going all year long!
The 175th Commission has three retail locations with merchandise available: Sophie's Shop at the Sophienburg Museum 401 West Coll St, Henne Hardware 264 West San Antonio St and The Local 146 North Castell Ave.