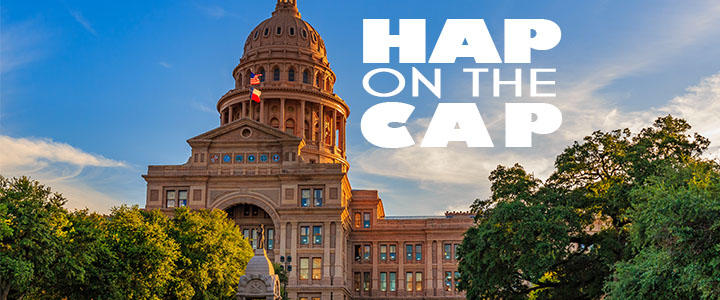 A weekly Texas Legislative Update will be provided in Serving You. Click here for the Chamber's Legislative Priorities and click here to view the Chamber's bill tracker recording the bills the Chamber is following.
That's a wrap! The 86th Texas Legislative Session is officially over as of yesterday, Monday, May 27. We'll spend the next few days reviewing our Top 10 Legislative Priorities and grading how they fared this session. For this article we'll just keep it short and sweet with a few of the items that passed this session.
The big news and big benefit for our community is that Senate Bill 520 passed! This bill was carried by Senator Campbell and Representative Kuempel and the Chamber would like to thank them for their hard work. The bill allows NBU to create an Aquifer Storage & Recovery project in the brackish Edwards Aquifer. The project will be located at the New Braunfels Regional Airport.
"This is an important thing that happened. Many from the community, including the Chamber, worked hard to make this happen," said NBU President Ian Taylor. "The contract for the first ASR well will go to the NBU Board for approval in June." You can read more about the ASR bill here.
In other good news for our community, a bill extending the expiration date of Chapter 312 of the Tax Code, the Property Redevelopment and Tax Abatement Act, has also passed. Chapter 312 of the Tax Code allows cities and counties to exempt all or part of the taxable value of new investments for a period of time not to exceed ten years. This allows communities to attract new jobs and grow tax bases without any cost to the state or local taxpayers. You can read more about Chapter 312 here.
While not part of our legislative priorities, a couple of bills that have made it to the Governor's desk and may be of interest are a bill creating a state flood infrastructure fund and a bill raising the smoking age to 21. The Flood Infrastructure Fund would help communities harmed by natural disasters. The Flood Infrastructure Fund would pull $3.3 billion from the Rainy Day Fund to help pay for flood control projects statewide. The bill also creates the Texas Infrastructure Resiliency Fund that allows cities and counties to apply for grants and low- or zero-interest loans for specific projects through the Texas Water Development Board.