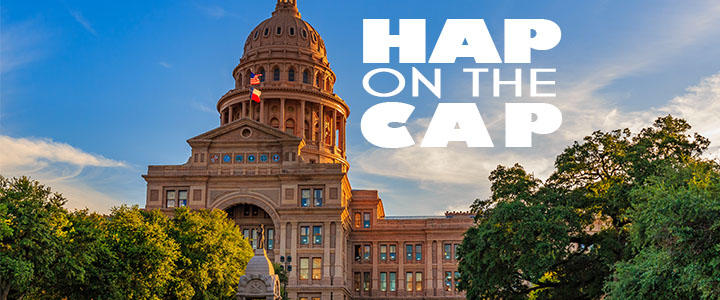 A weekly Texas Legislative Update will be provided in Serving You. Click here for the Chamber's Legislative Priorities and click here to view the Chamber's bill tracker recording the bills the Chamber is following.
The 86th Texas Legislative Session is four weeks from the finish line and this is officially crunch time. Both chambers will start meeting five days a week instead of three as they were previously. The clock is ticking and they still have a lot of work to get done. The Chamber is watching some specific transportation bills that hopefully see some action soon.
Mobility solutions are one of the Chamber's top legislative priorities. Specifically, the Chamber supports legislation to provide additional funding to expedite needed congestion relief, connectivity and safety projects, and supports new and sustainable sources of revenue that will be required in order to meaningfully reduce congestion and meet the needs of our growing population.  
Ensuring our community's transportation needs are met is a top concern for both the Chamber and the City. Our continued growth means additional wear and tear on our existing roads and an increased need for expanded or new road projects. The City is addressing some of these needs with the 2019 Bond Package on the ballot for the May 4th election (early voting open now, go vote!), but it's also vital to ensure the State is providing adequate funding opportunities and not restricting options for funding sources.
In 2017 Governor Abbott issued a moratorium on new toll road projects. The Department of Transportation had plans to include many toll projects in their long-term transportation plan to help build more road capacity with limited funds. However, Gov. Abbott made it clear that toll projects were not an option and the department dropped them from their plans.
Toll and managed lane projects give communities an additional solution to manage and mitigate traffic congestion. There are two bills on our radar that further limit the use of toll ways. House Bill 436 and its companion Senate Bill 374 repeal provisions authorizing toll project entities to use surplus revenue of a toll project to support the financing of another project and would stipulate that a toll project becomes part of the state highway system to be managed by the Texas Transportation Commission without tolls when the costs of the project have been paid off.
According to the Legislative Budget Board, if passed, the State Highway Fund would lose nearly $27 million over two years and would result in an immediate negative impact to a local toll project entity's ability to secure debt financing for construction and reconstruction of transportation projects. The House bill was left pending in committee while the Senate bill has had no action yet.
Two bills that we support, SB 88 and HB 3196, provide new options for transportation funding but have also seen no activity yet. SB 88 would create a pilot financing project allowing the Texas Department of Transportation to select one nontolled highway project under a design-build contract to be financed, including through the issuance of bonds, wholly or partly using revenue from transportation reinvestment zones and economic impact zones. HB 3196 would change the eligibility of a project to receive a grant from the Transportation Infrastructure fund to include in-kind contributions.  
With New Braunfels being strategically located between San Antonio and Austin, we've heard rumblings of a high-speed rail development for a while. Alas, no such project has come to fruition. HB 1370 would establish a joint interim committee on high-speed rail development. The committee would meet in 2020 between legislative sessions to create a report addressing the feasibility of a statewide high-speed rail initiative and proposing a statewide strategy for high-speed rail development in Texas. More transportation options are definitely welcome, especially one that could take you from SA to Austin in 45 minutes.
There are some very important mobility bills up for consideration but unfortunately progress has been slow. The legislature better get moving on mobility if it wants to pass some of this legislation this session. Next week we'll look at how our own local officials have been faring this session and the priorities they've been championing.