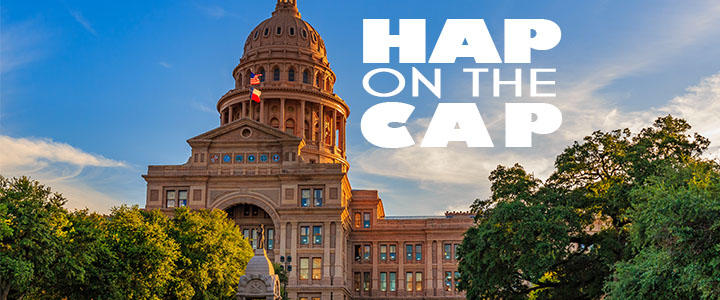 A weekly Texas Legislative Update will be provided in Serving You based on the issues in the Chamber's published Legislative Priorities. The priorities were developed by Chamber members based on feedback from the membership and testimony from state leaders. Click here for the Chamber's Legislative Priorities and click here to view the Chamber's bill tracker recording the bills the Chamber is following.
The 86th Texas Legislative Session is more than halfway done but there is still a lot of work ahead for our state elected officials. As a community with a large tourism industry, one issue we're watching is short-term rentals. Bills concerning STRs have a direct impact on our community and we will feel the effects locally.
Short-term rental (STR) is the overarching term for vacation rentals and investment properties in the lodging industry. Think condos and houses you'd rent on Airbnb and VRBO. There are more than 600 of these operating in New Braunfels but the majority of these rentals do not pay local Hotel Occupancy Tax as required by law. In addition, most do not adhere to zoning, ADA, health and fire requirements, or commercial property taxes that traditional properties spend a significant amount of time and revenue maintaining.
New Braunfels has seen a 97% growth in this market in the past six years. This growth has created negative effects on neighborhoods, workforce housing, hotel rates, hotel occupancy, tax revenues, and ultimately destination, arts, municipal and historical organization budgets that are responsible for a $795 million economic engine for our area.
According to the Texas Hotel and Lodging Association, "it is important to ensure: STR owners and platforms properly collect and remit hotel occupancy taxes; STR platforms are subject to the same auditing and transparency regulations as hotels; cities retain the ability to enforce permit restrictions on non-owner occupied STR properties in residential areas; and STR platforms remove listings that are not in compliance with local or state regulations."
Multiple bills have been filed in the legislature that address short-term rentals. Three preemption bills, HB 3773, HB 3778, and SB 1888, have been filed that control what components of an STR the city may regulate through adopting and enforcing ordinances. Preemption bills are legislation that when passed at the state level, are controlling over local laws enacted on the same subject.
For example, these three bills specify what a municipality may regulate including allowing municipalities to prohibit the use of the unit to promote illegal activities, management of the unit by someone convicted of a felony, rental to someone younger than 18, and rental for less than 24 hours. They also list certain things the municipality can require of the STR but also state that a municipality may not prohibit or limit the use of a property as an STR, adopt rules that are applicable solely to STRs, and apply a municipal law including noise restriction, parking requirement, or building codes that are more restrictive than those on similarly situated properties.
Additional bills address the collection of state, municipal, and county hotel occupancy taxes on a STR marketplace, such as Airbnb and VRBO. These bills, HB 3779 and SB 1472, enforce that an STR marketplace shall collect the appropriate amount of tax imposed by a municipality and remit those taxes to the state comptroller or to the municipality. Essentially, if passed, these laws are requiring the collection and appropriate distribution of hotel occupancy taxes from STRs.
One last STR bill, HB 4176, allows a property owners' association to adopt and enforce provisions that regulate the use of the property. That's a lot to unpack (pun intended), but we're keeping an eye on these bills along with the tourism industry associations like the Texas Travel Industry Association and the Texas Hotel & Lodging Association.
Next week we'll look at another subject that has a direct impact on our community. We'll review the bill that directly addresses New Braunfels Utilities' request to build an Aquifer Storage Recovery at the New Braunfels airport.