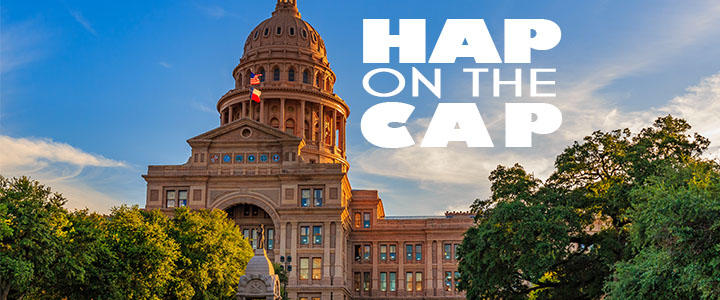 A weekly Texas Legislative Update will be provided in Serving You. Click here for the Chamber's Legislative Priorities and click here to view the Chamber's bill tracker recording the bills the Chamber is following.
The end is in sight. The 86th Texas Legislative Session will conclude just 2 weeks from today. While there is still time to pass significant legislation, the book has effectively closed on many items that have been waiting their turn for attention. In the House, bills that didn't make it out of committee, or didn't make it on last week's agenda, or bills and joint resolutions that weren't voted on by last Thursday are, for all intents and purposes, dead. Some big votes are sure to come in the next two weeks, and things can still be tacked on to other legislation as amendments, but the results of this session are starting to materialize. 
Big news this week is that the sales tax swap is essentially dead. In a press conference on May 3, Gov. Greg Abbott, Lt. Gov. Dan Patrick, and House Speaker Dennis Bonnen endorsed legislation to pay for long-term school district property tax cuts by raising the state sales tax. However, last Monday, the Senate removed that provision from their school finance bill, and on Tuesday the House postponed consideration of legislation that would ask voters to approve a state sales tax increase of one penny until 2021.
We're keeping an eye on this big legislation and of course the Chamber's legislative priorities, but today we'll take a look at one of our local elected leaders and what he's been up to this session. Today's focus is State Representative John Kuempel, R-Seguin.
Kuempel, born and raised in Seguin, is the son of former State Rep. Edmund Kuempel who served from 1983 to 2010. John Kuempel was sworn in on December 30, 2010 to the 81st Legislature and is serving his fourth term as State Representative from District 44. The district is comprised of Guadalupe and Wilson Counties. This session he is serving on the Environmental Regulations and Administrative Procedures committees.
During his 2018 re-election campaign, Kuempel listed his priority issues as:
Securing our border
Getting us where we're going faster
Providing meaningful tax relief
Balancing our budget every time
Strengthening our local schools
Honoring our heroes
Creating good jobs at home
Protecting life
Defending our rights and property
This session he has authored 44 bills, joint authored 11, sponsored one, coauthored 30, and cosponsored four. Included in the bills he's authored are a bill for NBU's Aquifer Storage Recovery project, a bill requiring Texas winemakers to use 100% Texas grapes in order to have a Texas label, a bill prohibiting a municipality from extending certain water quality regulations into an extra-territorial jurisdiction, and a bill prohibiting Texas cities from requiring an employer to provide paid sick leave.
The most significant bill for our region is the one allowing New Braunfels Utilities' aquifer storage recovery project. HB 481 passed through the committee but has not been scheduled for a vote in the House. However, its companion bill by another of our elected leaders, Senator Donna Campbell, passed unanimously in the Senate, and is now in the House Natural Resources Committee. We covered this bill more in depth here.
His bill requiring that Texas winemakers use 100% Texas grapes in order to receive a special made in Texas label was supported by Texas grape growers and a group of winemakers but was opposed by some winemakers who argue there isn't enough supply in Texas to require that high of a percentage. Currently the threshold is 75% to receive the special label. That bill has not left committee.
With a population of more than 50,000 the City of New Braunfels has a 3.5 mile Extraterritorial Jurisdiction. Kuempel's HB 3750 would prohibit a municipality from extending into the ETJ an ordinance that imposes certain water quality regulations. This doesn't appear to affect New Braunfels though as the only ordinances in our ETJ are a subdivision review and a signage review.
Along with Rep. Krause, Kuempel introduced legislation that would prohibit municipalities from requiring private employers to provide paid sick leave. Bills of this nature were in response to ordinances passed in Austin and San Antonio, with Dallas passing a similar ordinances in April. While this particular bill hasn't moved in the committee, other bills addressing similar employment policies have had some movement.  
Now that we've covered both local Representatives, next week we'll turn to the Senate and review Senator Donna Campbell's work this session.