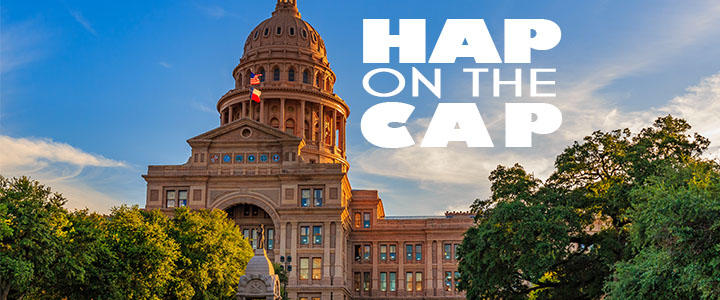 A weekly Texas Legislative Update will be provided in Serving You. Click here for the Chamber's Legislative Priorities and click here to view the Chamber's bill tracker recording the bills the Chamber is following.
Just one week left. The 86th Texas Legislative Session concludes, one week from today on Monday, May 27. As of May 16, more than 10,000 bills have been filed, 2,615 bills have passed both the House and the Senate, and 93 bills have been signed by the Governor.
A couple of news items that came out this week include the legal tobacco age and an increase in the 2020-2021 budget. Senate Bill 21 would raise the legal tobacco use age from 18 to 21, except for military personnel. After being approved in the Senate earlier, last Tuesday the House approved their version. That bill will either be reconciled in conference committee or accepted as is and sent to the Governor for approval.
State Comptroller Glenn Hegar had some good news for lawmakers this week. As legislators are negotiating the 2020-2021 budget, Hegar announced last Tuesday that the state will have an additional $518 million to spend in the next biennial budget. Some of the increase comes from revised estimates of oil and natural gas production taxes. He also added that the state's treasury could increase by another $550 million if a bill to streamline online sales tax collections on out-of-state sellers passes.
As we've reviewed our two State Representatives over the last two weeks, today we'll look at our State Senator Donna Campbell, R-New Braunfels. This is a good time to do it too, since one of her bills that has a big impact on our community just had some good news.
Dr. Donna Campbell was first elected to the Senate in 2013. She represents District 25, a six-county district that includes parts of San Antonio and Austin. She is a board certified emergency room physician and business owner in New Braunfels. She is the Chair of the Veteran Affairs & Border Security Committee, serves on the Business & Commerce, Education, Finance, Health & Human Services, and Intergovernmental Relations committees, and was also appointed to the Conference Committee for HB 3 (the school finance bill).
This session she has authored 147 bills, sponsored 23, coauthored 37, cosponsored nine, and authored seven adopted amendments. Among the bills she has authored is one related to quarries, a bill allowing licensed holders to carry a gun in a place of worship, several bills related to the military and education, and a bill allowing New Braunfels Utilities' Aquifer Storage Recovery (ASR) program.
Senate Bill 694 would increase monitoring of rock quarries, require unannounced inspections, and strengthen enforcement of existing regulations to protect air and water. The bill passed in the Senate after a unanimous committee vote in favor and has now been referred to the House Environment Regulations Committee.
The Texas Penal Code currently includes the premises of a church, synagogue, or other established place of religious worship as a place where carrying a handgun by a handgun license holder constitutes an offense. Campbell's bill would remove those places of worship from that code which would allow the place of worship to decide whether or not to allow a handgun license holder to carry a handgun on their premises. That bill passed out of the Senate on a unanimous committee vote, passed out of the House committee, and will now be voted on by the full house.
Campbell's ASR bill has been closely tracked by the Chamber, NBU, and the City throughout the session. We covered that in a previous Hap on the Cap article so we won't go into too much detail here. A brief explanation is that it will allow NBU to pump unused water into the brackish portion of the Edwards Aquifer and then retrieve it in times of drought. You can read more about the ASR here.
The good news with the ASR bill is that it looks like it will pass into law before the end of the session. Both the Senate and House committees approved it unanimously. After the House committee's approval it was sent to the "Local & Consent Calendar" on May 15. This means that it won't need to be debated or discussed on the floor. Instead it will be approved on the consent agenda along with other uncontested bills. After that it will go to the Governor who is expected to sign it. NBU is already planning for the implementation of this project and it will be a huge, positive impact for our water resources. This is a big win for our community.
And with that, we are very close to the end. Next week we'll look the Chamber's 10 legislative priorities and grade how they fared this session.