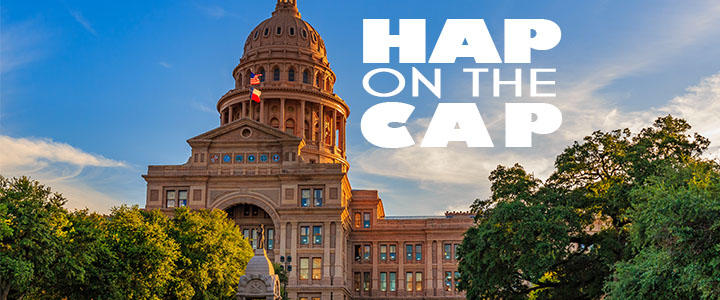 A weekly Texas Legislative Update will be provided in Serving You. Click here for the Chamber's Legislative Priorities and click here to view the Chamber's bill tracker recording the bills the Chamber is following.
Just three weeks from conclusion, the pace of the Texas Legislative Session has really picked up. The biggest recent news is that Senate Bill 2, a property tax reform package, has now passed in both the Senate and the House but the version passed in the House is contingent on also passing school finance reform measures.
The bill triggers an automatic election if a city or county would like to raise property tax revenue 3.5 percent or more over the previous year. It is designed to slow property tax growth but does not provide lower taxes and opponents contend that it hamstrings cities and means they cannot provide enough vital services such as police officers and firefighters to keep up with growth.
We have covered property tax reform in a previous edition of Hap on the Cap so today we'll look at a different topic. This edition, and the next two, will focus on our local state elected leaders and their activity throughout the legislative session. New Braunfels has three state officials – Rep. Kyle Biedermann, R-Fredericksburg, Rep. John Kuempel, R-Seguin, and Senator Donna Campbell, R-New Braunfels. First up: Rep. Biedermann.
Biedermann was first elected in 2016 to represent District 73 which encompasses Comal, Gillespie and Kendall Counties. He has lived in Texas for 30 years and owns an Ace Hardware in Fredericksburg. He currently serves on the County Affairs and the Land & Resource Management committees.
Prior to this legislative session, Biedermann outlined his 2019 Legislative Priorities as follows:
Abolish "Robin Hood" and Fix School Finance
Property Tax Relief Legislation
Pro-Life Legislation
Protecting Second Amendment Rights
Research on legislative options and solutions regarding incompatible land use, and strengthening the TCEQ permitting process
Mental Health Legislation and Opioid Drug Crisis
Protect the Alamo
This session he has authored 21 bills, coauthored 48, cosponsored five, and authored 9 amendments. Included in the bills he's authored are a bill for border security enhancements, a bill imposing term limits on members of the Texas Legislature, a bill relating to regulating and permitting for quarries, a bill creating an additional County Court at Law in Comal County, and a bill that would stop the Alamo Cenotaph from being relocated.
The bipartisan border security bill, HB 4306, would create a Border Security Enhancement Fund to be administered by the Governor based on requests from local officials on the border. The fund could pay for projects such as clearing brush along the Rio Grande, providing new security technology, sending additional manpower to ports of entry, and the construction of flood control structures. The bill passed in the House on Thursday and will now move to the Senate.
The term limits bill would limit both Senators and Representatives to no more than six regular legislative sessions and statewide elected officers in the executive branch could not serve for more than 12 years. That bill was left pending in committee. Another bill left pending in committee is his quarry bill. This would authorize the Railroad Commission to issue rules and regulations regarding quarries and require that TCEQ perform an air quality study for proposed quarries.
Comal County currently has two County Courts at Law. Biedermann's HB 4739 would create a third court for the county. No action has been taken on that bill. A subject that is important to Biedermann is the Alamo Cenotaph. The City of San Antonio approved an Alamo Masterplan that included moving the Cenotaph, a monument commemorating the Battle of the Alamo and the Texas Revolution, about 500 feet. Bidermann's bill, HB 1836, would use eminent domain to give ownership of the Cenotaph to the General Land Office and require it to stay on the original Alamo Plaza.
While Biedermann has been working away on his priorities, our other Representative, John Kuempel has also been addressing the issues important to him. Next week we'll look at what he's been up to this legislative session.