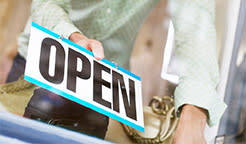 New Braunfels is experiencing a time of healthy and managed growth. At every turn, you can look around and see new streets being built, new neighborhoods springing up, new retail shops opening their doors and selling their wares, medical services being provided to the community giving us new and improved care, expanded venues for entertainment and family gatherings, high quality office space for existing and new businesses, and developed wide open spaces for those future industries who decide to call New Braunfels home.
This growth is special as it provides opportunities for the young and old alike to find jobs that will further challenge the abilities and skills of the community's workforce now and in the future. New Braunfels' growing job market broadens the needs for these skills and abilities, all the while providing current citizens with opportunities to be able to work where they live and play.
Look around town and you can see new office buildings breaking ground in Sundance Park, Westpointe Center, Creekside, and Gruene. New apartments are being constructed along FM 306, FM 1101, Oak Run Parkway, and Common Street. Housing subdivisions are breaking ground along I-35 around the FM 306 and the Post Road area, Alves Lane, FM 1101 and Kowald Lane, Hwy 46 West, between Countyline Rd. and Klein Rd. off FM 725, and along Goodwin Lane to name a few.
Creekside is preparing to open the doors on Burlington, Home Goods, and Five Guys Burgers and Fries. If you are interested in learning to fly airplanes, the New Braunfels Regional Airport is home to two training facilities, but more than that, the Airport is expanding the infrastructure to allow more A&P and charter flight services.
New retail strip centers are preparing to welcome new shops along FM 306 and Hwy 46 West, and a new car wash will open next to Simpson racing Products on FM 306. For those of you who are looking new banking services, AmegyBank will open its doors soon next to the newest HEB Plus at FM 306 and I-35. This community is known for being a wonderful place to host reunions, weddings, and other social events. A new event center will open in Creekside Villages and wedding venues have opened on FM 758 and Bretzke Lane off FM 306.
If you look around, you can see that the local, county, and state government are working to provide easier and more efficient access to their services. Comal County has renovated The Collection, most recently the TCOR building on Seguin Ave, into a new voting center, the new Comal County Jail is under construction along I-35 behind the existing jail, and there are plans for a new justice center in the future at I-35 and Loop 337.
The City is moving forward with several sidewalk projects all over town, one of those being in front of the beautiful new recreation center on Landa St. Another project the City is working on is to improve the 9+ acres on South Castell where the former City Hall currently sits, into an area of planned development expanding and complimenting the current downtown area. The State of Texas has finally invested in a new service center for New Braunfels and Comal County, by constructing a new Texas Department of Public Safety licensing and weigh center on Conrad's Lane across from the TA Truck Stop. This new center will open in late Fall 2017.
For more information and photos of these developments, visit the Greater New Braunfels Economic Development Foundation's Project Updates webpage.