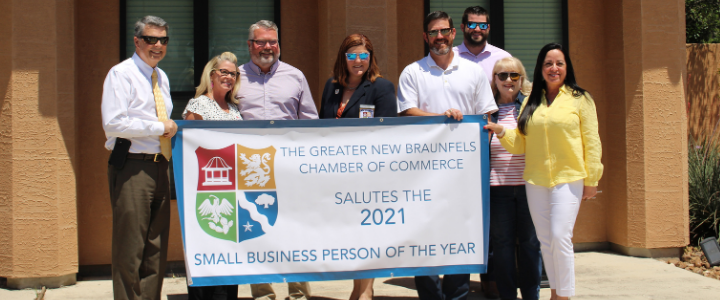 The Greater New Braunfels Chamber of Commerce is proud to announce that Glenn Griffin, Owner of Griffin Asset Management, has been selected as the 2021 Small Business Person of the Year. The announcement was made Tuesday, April 20 when members of the Chamber's Executive and Small Business Week committees made a surprise visit to Griffin's office with the announcement.
Griffin started his firm in 2009 on the heels of the Great Recession. "Planning to open your own investment practice in early 2009 was daunting," he says. "The market was still reeling from the financial crisis and there were a lot of concerned investors." Through hard work and perseverance, he has built a practice based on the trust that his clients have placed in him.  Griffin says he focuses on "doing the right thing for the client based on their needs, address any concerns in a timely manner and strive to provide appropriate solutions when needed."
In addition to operating a successful practice, Griffin has made it a priority to be involved in the community. He has been a member of the New Braunfels Chamber of Commerce since 2009, serving as a Chamber Board Member, and is an active Chamber Blue Coat Ambassador and Chair of the Business Trade Show Committee. He also serves as Chair on the City of New Braunfels Heritage Commission, has been on the City of New Braunfels Parks and Rec Board, and is a Kleine Opa for the Wurstfest Association.
Since 1990, the Small Business Person of the Year award has recognized the outstanding contributions of small business people to the economy and overall progress of the New Braunfels trade area. To be eligible for nomination, the business person must be a member of the Greater New Braunfels Chamber of Commerce, own their business, exhibit community involvement, and employ less than 50 employees, all for the last five years.
Small Business Week will be celebrated locally and nationally May 2 through May 8. During the week the public will be encouraged to shop local and use #SBWNB on social media to show their support. The community will be asked to wear yellow on Friday, May 7 in recognition of all business owners. Griffin will be recognized as the 2021 Small Business Person of the Year through proclamations made by the New Braunfels City Council and the Comal County Commissioners Court. He will also be honored at a reception sponsored by Moody Bank.