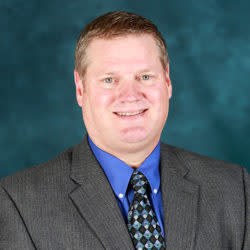 Greg has been in the financial services and professional relationship management field since 1993.  He received his Bachelor of Science degree in Agricultural Business from Tarleton State University in 1990.  Greg spent nine years serving on the board of directors for Comal County Habitat for Humanity, having spent four years as board President.
Greg has been a member of The Greater New Braunfels Chamber of Commerce for over twenty years, serving on and chairing numerous committees.  He is currently serving on the Board of Directors.  Greg has served on the Board of Directors of the Economic Development Foundation and serves on the Arrangements Committee of the Texas Legislative Conference.
Greg lives in an area of New Braunfels known as Comal Town in a home purchased from the Sophienburg Museum, moved to its current location and painstakingly restored with the help of friends and family.  Greg lives with his wife Christy, daughter Ashley and granddaughter Alayna Jane.  They have lived in New Braunfels since 1993 and love the community and surrounding area and believe in giving back to their community.
Fun Facts: 
If you could have 1 super power, what would it be? The ability to fly
What was your favorite toy growing up? Tonka trucks and John Deere tractors
If you could have dinner with anyone, past or present, who would it be? Wyatt Earp