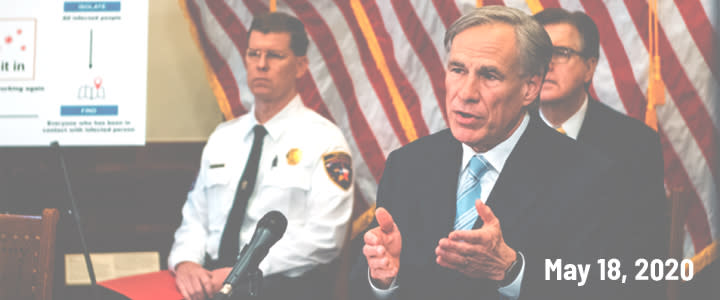 Governor Greg Abbott announced more opening plans for the state of Texas Monday, May 18.  He reminded Texans that the virus still is with us and that we need to remain vigilant and stay safe.  He noted ample supplies of PPE, increased testing, response to "hot spots" like nursing homes and meat packing plants, and jails, positive rates trending down, and hospital capacity and the number of patients lowering.
Effective May 18 additional personal businesses can open and previous businesses can expand their openings.  For example, businesses in offices can have 10 people or 25% of their workforce inside, up from 5 people.  Child care facilities can open effective today, which will aid with allowing the workforce to return to work.
On Friday, May 22 more businesses can open with expanded capacities, such as restaurants going to 50% occupancy and now bars can open Friday at 25% capacity.  On May 31, youth sports camps and Little League can open as well as summer camps, some professional sports, and high school sports like football.  On June 1, schools districts can open their summer schools with proper protocols among a list of other businesses who will be allowed to reopen in the upcoming weeks. The University Interscholastic League (UIL) has approved the school sports strengthening programs to start as well as band practice to resume on June 8th.
All of the Phase 2 plans can be found at gov.texas.gov/openTexas .
To view the Official Pres Release from Governor Abbott CLICK  HERE