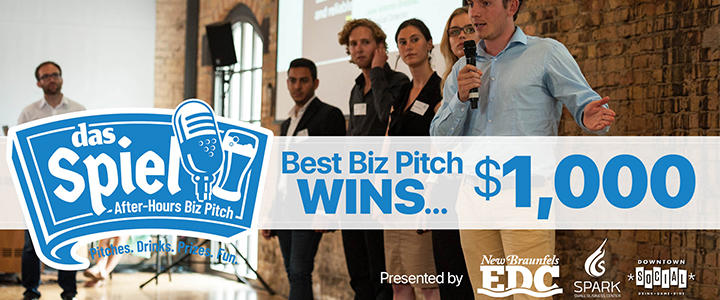 Do you have a business idea and need funding? The New Braunfels Economic Development Corporation (NBEDC) is hosting Das Spiel, formerly known as Pitch Tab, for entrepreneurs to give their spiel about a product or idea at Downtown Social on Wednesday, June 26 from 6:00 to 8:00 p.m.
Das Spiel is a chance for 10 participants to give a 90-second spiel about their idea or project to an audience. The audience will then select the best spiels for first, second and third place. Winners will receive a cash prize. There will also be three panelists and a moderator that can ask the participants questions and provide feedback for each idea.
"The average number of entrepreneurs in New Braunfels is lower than the state average, and events like this will help to increase entrepreneurship in New Braunfels.," said Chester Jenke, Chamber Vice President of Economic Development. "Das Spiel is the opportunity for entrepreneurs to present their ideas and projects to a crowd."
Downtown Social is located at 386 W. San Antonio Street. Das Spiel is limited to 10 participants.