On Friday, the New Braunfels Chamber hosted the 52nd Texas Legislative Conference where "King of Country Music" George Strait accepted the 2018 Texan of the Year Award in front of more than 500 attendees for his efforts to raise funds and awareness for Hurricane Harvey relief efforts. Strait, who was joined by his whole family, was also presented with the special City of a Prince decree by Chamber Chair of the Board Robin Jeffers. Upon receiving the Texan of the Year Award, Strait said "I've gotten to do and experience many incredible things that I'll never forget….this honor today is at the very tip top of that list."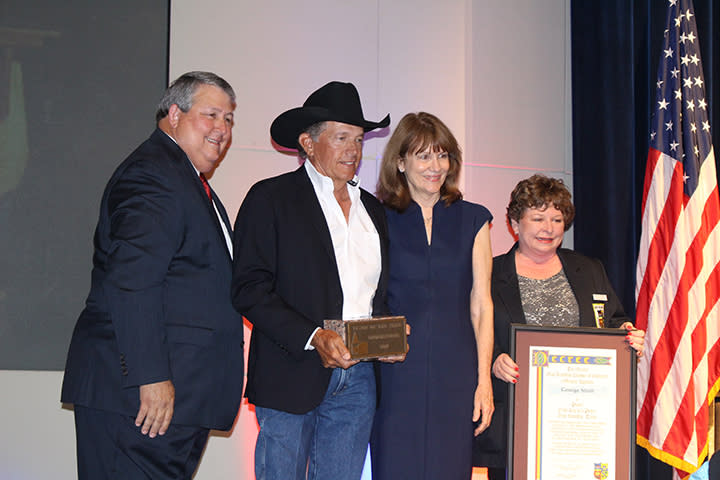 The award presentation was preceded by a full conference beginning with a reception Thursday night. The Friday conference included a dedication to Bennie Bock, an opening address by Texas A&M University System Chancellor and Chair of the Commission to Rebuild Texas John Sharp, and three consecutive panels. The panels included state elected officials, media pundits, and subject matter experts and covered Hurricane Harvey impacts on Texas, Texas primary results, and the federal tax reforms impacts on Texas.
The New Braunfels Chamber of Commerce has been hosting the Texas Legislative Conference in our hometown since 1966 to bring key policy and decision makers together to discuss critical issues that matter to the residents of New Braunfels and the state of Texas. The non-partisan, two-day Conference is held every March at the New Braunfels Civic Convention Center so that our residents don't have leave town to be in a room with state and national leaders and hear them discuss the issues of our time.
The 53rd Texas Legislative Conference will be held on March 21-22, 2019.