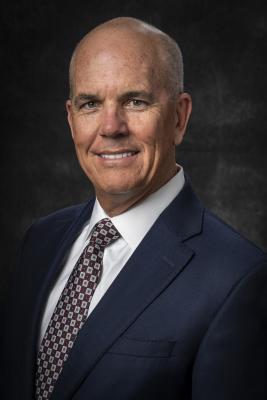 CITY 175TH CELEBRATION UNDERWAY
Happy New Year and Happy Birthday New Braunfels!  I'm blessed and honored to be your incoming Chair of the Board for the Chamber of Commerce, and looking forward to a year of great celebration and hard work. This year the Chamber has been tapped to promote and support all of the 175th celebration events. Anne Miller is Chair of the committee of volunteers that has been planning these events for four years. The year started in black tie fashion with the Edelweiss New Year's Eve Ball. The Civic Center was transformed by Teresa Johnson and her committee into an elegant venue with live music, ballroom dancing, professional photography and an exceptional steak and lobster meal. Glasses were raised to ring in the New Year and celebrate the rich history that has shaped our community.
Four days later, Neal Linnartz chaired the committee to host the first- ever "Simul-toast" between Braunfels, Germany and New Braunfels, Texas.  Past Chair of the Chamber Board Shane Wolf and Chair Elect Nathan Manlove made the journey to Germany to coordinate the broadcast and interview a native Braunfels, Germany Historian, Gerhard Adam, for a unique historical overview of our ties to Prince Carl of Solms-Braunfels.  Guadalupe Brewing made a special Pilsner that was also produced in Braunfels, Germany to toast and commemorate the special occasion.  Representing the Chamber Executive Committee in New Braunfels were Vice Chairs Ian Taylor and Allison Humphries along with myself and President Michael Meek.  The globe crossing event was seamless and allowed all in attendance to witness and feel the unique relationship New Braunfels continues to enjoy with Braunfels, Germany.
Looking forward, there will be more to celebrate at the 101st Annual Chamber Banquet January 31st and eight different 175th events in March.  Yes, eight!  Find all the details and historical information on the 175th website, Since1845.com. If you would like to display your 175th pride, stop by the Chamber office to pick up a complimentary 175th logo sticker to place on your vehicle window.  The Chamber was honored to be named the officially sanctioned entity by the City to carry out the years' activities like we have every 25 years since 1945.
Clearly the 175th celebration is a top priority for the Chamber this year, but our other three priorities are:
Secure Leadership for the Future
Pursue Expanded Chamber Facilities
Maintain and Promote Chamber Activities, Economic Development and Tourism
2020 will be a year to remember for New Braunfels and I encourage everyone to engage and enjoy the celebration of our history as we give thanks for the blessing of this community.  Your dedicated Chamber staff and Board are committed to the vision of providing a vibrant and prosperous community for future generations.  Congratulations on the historical legacy of 175 years and let the celebrations continue!
Wes Studdard
2020 Chamber Chair of the Board