Greetings and Happy New Year! I am personally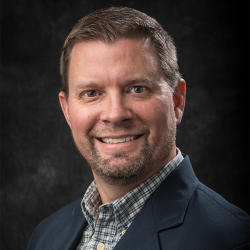 grateful to each of you who are part of this community and it is my honor and privilege to serve this year as the Chair of the Board for the Greater New Braunfels Chamber of Commerce as we celebrate our 100th year.
I hope each of you have had some time to enjoy and reflect with family and friends this holiday season on the past, present, and future. 2019 will bring new opportunities & new challenges for each of us. I have no doubt we can make the best of all of them. As New Braunfelsers, we have a lot to be thankful for of our community that we share with so many giving individuals. This is truly what makes New Braunfels special. Oh and of course, our rivers!
I am just one example that you don't have to be a native to this community to contribute or feel a part of things. My wife and three children moved here in 2006. I manage Rockin 'R' River Rides. Nicole, my best friend, partner, and wife, is a teacher at Hoffmann Lane Elementary. My youngest is a 7th grader at Church Hill Middle School, and the twins are 18 and attend Canyon High School. We now have all of our extended family here except for one sibling who wishes they too were here. This is just one example of why this city and county are both the 2nd fastest growing areas in our country.
This will be a year full of activities as your Chamber Board has already laid out its calendar for the year and strategic direction for the next 2-3 years. Here is a peek of a few agenda items:
Chambers 100th Anniversary

The New Braunfels Herald-Zeitung will have a weekly piece reflecting and honoring our historical past
We will honor close to a dozen businesses that have been here for all 100 years
A year full of celebration including at our Chamber events and many others

Chamber will assist the city in accomplishing its new comprehensive plan goals for the next 20 years
Chamber is the official organizing entity for the City's 175th Anniversary in 2020
Succession planning

Our President, Michael Meek will be retiring at the end of 2020
Facility limited space may cause us to relocate offices in the future
As our founders of this community some 174 years ago saw the potential of this land, they too had to sit back and reflect on how to grow responsibly while enjoying all it has to offer. I feel the old adage holds true that "it takes teamwork to make the dream work." So I ask each of you to help in continuing to make sure our Chamber's theme this year holds true. "Success Flows Here" in 2019 and beyond!
I look forward to serving the Chamber and the community this year and wish each of you a year of positive growth, health, and good fortune. Happy New Year!