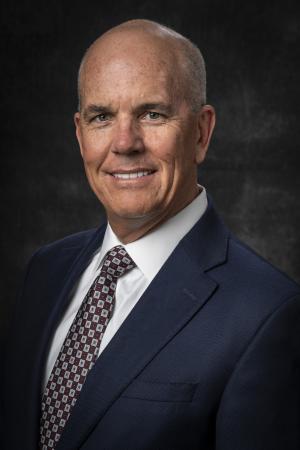 Congratulations New Braunfels Chamber! The 101st Chamber Banquet was one to remember as we celebrate our city's 175th birthday and the volunteers that make up this great community.  On January 31st, the Civic Center had a sellout crowd eager to recognize local award winners and learn more about our rich history.  Dave Ferguson was master of ceremonies and recognized Blue Coats awardees, the Chair of the Board recipients and the Hall of Honor inductees.  Past Chair of the Board Shane Wolf presented plaques as the volunteer Blue Coats stood to honor the award recipients. Congratulations to all!
As the lights went down, the 175th video presentation came to life. A Wurstfest favorite, Alex Meixner narrated the entertaining video filled with humor and music, describing the 175 years of New Braunfels history.  This is a "must see" for everyone in New Braunfels and can be watched through the Chamber's Since1845.com website.  As the video ended, there was another surprise and delight as Alex walked out with his accordion to lead a crowd favorite, "There's only one "S" in New Braunfels". After a standing ovation, he invited Wurstfest and Chamber officers on stage for a Prost toast.  You could see and feel the pride our community shares for the rich German traditions.
Shane Wolf provided his gratitude to the Chamber staff for their support throughout 2019 and recognized the value of volunteerism within our unique community. After Shane passed the gavel, I was able to layout the four priorities (Promote 175th, Leadership Succession, Facility Improvement and Chamber work) for 2020 and recognize the great contributions of many in attendance.  Chamber President Michael Meek received a standing ovation for his 30 plus years of strategic leadership and our local Texan of the Year, General Charlie Duke, was also recognized with the same. After calling out all the volunteers that make New Braunfels such a special place to Live, Work and Play, Rene Couch won $175 at a quick game of heads or tails.
The finale to the night was the announcement of the Bessurung recipient, Pastor Ray Still from Oakwood Church. Congratulations and a sincere thank you for your faithful leadership in our community.
Once again, special thanks to all the Chamber staff for making this such a memorable event. Looking ahead, we have a fun filled year of 175th community celebrations. I encourage everyone to participate in the events and stop by the Chamber office to pick up your complimentary 175th window decal to proudly display on your vehicle.  Together, we make New Braunfels a special place to call home.