February, the month recognized for many as "Love". Rightfully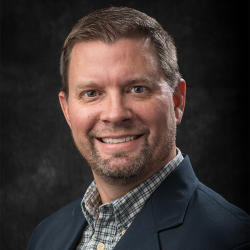 so with Valentine's Day right around the corner. I would like to share with you a group that I know truly loves our community and with that comes the confidence of knowing you have leadership you can count on.
Here at the Chamber, we have assembled a very diverse Board of Directors whose members have backgrounds in many different areas. Our Executive Committee is comprised of myself, Chair-Elect Wes Studdard of Bluebonnet Motors, Vice Chair Nathan Manlove of The AMMO Group, Vice Chair Ian Taylor of New Braunfels Utilities, Immediate Past Chair Robin Jeffers of J & R Gymnastics and Chamber President Michael Meek. I am very honored to work with this great group of people and feel blessed they feel the same love I do for New Braunfels and have made giving back to their community a priority.
The rest of our Board of Directors is comprised of 19 leaders from a cross-section of our community that gives the Chamber Board a balanced view when discussing the issues of New Braunfels and the surrounding area. We have the following sectors of the business community covered with our 2019 Board of Directors: Hospitality, Business Services, Healthcare, Insurance, Banking, Non-Profit, Manufacturing, Energy, Education, Real Estate, Retail and Justice. I know this group will help keep the tradition of the New Braunfels business community to be the best it can be with an eye on where we came from and where we are headed. Please visit the Chamber's website for a bio on each of our Board and staff members.
As the City and County continues to grow exponentially, we will have to face some tough decisions in New Braunfels as we are joined by more friends, family and visitors that find out our City is a great place to live, work and play. These decisions will center around roads, growing school districts, growing businesses, new industries, the need for more offerings and services, and conservation, just to name a few.
Your Chamber of Commerce Board of Directors and our hard working staff with more than 200 years of experience, is focused on partnering with our elected officials and municipal and county staffs to present transparent and factual information. We truly want to help facilitate the open discussion of these challenging issues that we all face.
I also want to take this opportunity to personally and professionally thank the Board for their time and talents as they serve and help promote New Braunfels to be sure that "Success Flows Here".