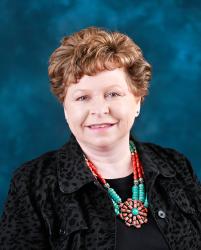 Robin Jeffers
2018 Chair of the Board
Engaging In Your Community
Your Chamber of Commerce is off and running in this its 99th year of serving our great community.  As in the past we continue to have exciting times and great prospects in store.  I am proud to be part of a board that looks beyond just economics and seeks to support projects that are best for our community.  We work, live, play and are raising our families here and want nothing but the best for ourselves and future generations.
Our awesome Executive Committee includes Chair-Elect Shane Wolf of Rockin 'R' River Rides, Vice Chair, Wes Studdard of Bluebonnet Motors, Vice Chair Nathan Manlove of The AMMO Group, Immediate Past Chair Brandon Dietert of New Braunfels Smokehouse and Chamber President Michael Meek, who are all working tirelessly behind the scenes preparing for events and activities for not just this year but for future years as well.  One celebratory event we are all looking forward to is the 100th Anniversary of the Chamber of Commerce next year.
Supporting the Chamber officers above, and more importantly our community at large, are 19 other Board of Director members.  These individuals are not only business leaders that donate their time and talents to serve your chamber, they also serve our community in a variety of non-profits, civic and service clubs. These are people involved in their children's' and grandchildren's activities.  They are vested in the community and are part of what makes New Braunfels great.
Importantly, we have a board made up not only of diverse individuals but representing diverse businesses/entities as well.  Some of the sectors represented include news media, manufacturing, public servants, large and small businesses and corporations, the banking and insurance industries, non-profits, and both CISD and NBISD.
I invite you to read more about each board member by going the Chamber website www.ChamberInNewBraunfels.com.  February is the month of love and I can un-equivocally say that the Chamber Board of Directors love New Braunfels and chose to serve out of personal commitment to continue the great tradition of collaboration that has made New Braunfels a great place.
We continue to Balance Success in our community by participating in public meetings sponsored by the city for the exciting South Castell project and providing input for the City Comprehensive Plan that will provide direction for our future.  Our Leadership Alumni Association sponsors a candidate forum where area candidates can get their message out.  This and other candidate forums allow our citizens to be well informed and vote for individuals who will best represent them locally, statewide and nationally.   Remember early voting begins February 23rd.
One key to our community's success is the engagement of our citizens.  Be it through our Chamber, civic and service clubs, youth sports leagues, education foundations… the list goes on.  We thrive because our citizens get involved.  As new people move to our community they see this and take part which is critical to us maintaining our hometown culture.
My first grandchild will be born right here in New Braunfels in just a few weeks, so I am even more motivated to support our town in positive ways.  I want her to grow up in a vibrant, growing community where she has great work opportunities and is excited to join in and help her community.
Knowing the value and importance of citizen input the City has sought and received insightful input on the S. Castell project.  Our elected officials continue to accept input and guidance as they thoughtfully move forward.  I am thankful the city is maintaining control in the process rather than taking a quick payday by selling to developers and walking away.  It presents greater challenges to the City and our City Council to have taken this approach and I commend them for accepting the challenge.  This method provides the greatest control in developing this area in such a way that benefits the majority of our citizens.
Everyone reading this certainly recognizes that I love my hometown and have great respect for all those that work and serve here.  I encourage everyone to get involved at whatever level you are able.  Each one of us makes a difference and our community is blessed with so many that are willing to step up.  To each and everyone who serves THANK YOU.