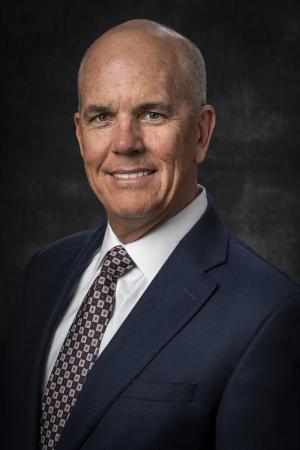 2020 is coming to an end and what a year it has been. I have been honored and humbled to serve as Chair of the Greater New Braunfels Chamber of Commerce Board this year. I have gained such an appreciation for the benefit of a strong local Chamber. In a year like no other, the New Braunfels Chamber has been a rock for the community.
Your Chamber, under the experienced leadership of retiring President Michael Meek, is always ready to adjust and pivot to the new normal. I especially want to thank the professional Chamber staff that comes to work every day to make New Braunfels a better place to live. They have cheerfully kept me on track at all events, meetings, and ribbon cuttings. Our plans for the year took a sharp turn in March, but the dedicated Chamber team made the pivot seamless.  And what they do is working, because New Braunfels is the third fastest growing city in the U.S. (according to the 2020 US Census) and number twenty-five in Money Magazine's Top 50 Best Places to Live in America! 
Amidst the pandemic year, I am also grateful for the constant cooperation and communication between the City, County, utilities, school districts, business leaders and charity organizations. We had many, many Zoom meetings with local officials to gather information and provide input for decision making while navigating the unknown. I know our community loves to come together for celebrations, but this year I witnessed the strength of our City coming together in times of need. I am so proud to call New Braunfels home.
I also want to thank the Chamber Board members for their support and encouragement, especially as we continue to craft the plan for a pragmatic presidential search and selection process in 2021. Chair Elect Nathan Manlove and Vice Chairs Ian Taylor, Allison Humphries and Barron Casteel are proven leaders that will confidently navigate the Board and staff through the leadership transition.
And finally, a resounding Thank You to the Blue Coats. You are a critical ingredient to the secret sauce of the success of the New Braunfels Chamber. The Blue Coats are always on spot to welcome and engage new businesses to the community. The support they provide is overwhelming at every event they attend. Even though ribbon cuttings were reduced, I hope you enjoyed bringing history and humor together to celebrate the openings.
Looking forward, I am eager to recognize the Chamber accomplishments and award winners at the Annual Chamber Banquet, scheduled for January 29th, 2021.  
From my family to yours, we wish you a Merry Christmas and a Happy/Healthy New Year!
2020 Chamber Chair of the Board