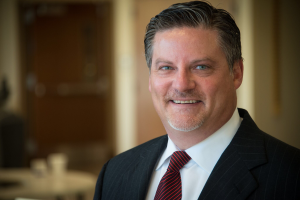 The last time I wrote my quarterly article for the Herald-Zeitung the world looked a lot different from the world we find ourselves in today. A health crisis that spawned an economic crisis. Hard to believe that was only three months ago!
However, as usual in this community, we have collectively stepped up and are now on the verge of recovery. Our April 21 board and all-member "meeting" was held virtually for the first time and NBU's Ian Taylor, one of our Foundation's Vice-Chairmen, provided attendees an inside look at how his organization is responding. With the growth occurring, our municipal utility is well-managed and working hard to sustain services while growing needed infrastructure for future needs.

Many initiatives have been launched to assist in the recovery and more are on the way. Work taking place pre-COVID-19 will pay off with a workforce study now published and the decision by PNC Bank to select New Braunfels for their new customer call center. They are underway with hiring over 400 high-wage office positions for their new facility at Parkview Plaza. Horizons Learning Center is remodeling the former Herald-Zeitung building on Landa Street and they will soon be providing training to citizens around the region with over 50 high-wage positions. Continental Automotive is constructing their state of the art automotive technology plant off Kohlenburg Road for a 2021 opening for over 500 workers.  And activity at Veramendi is ever-growing. They will be our keynote at the July 14 virtual event.  
Your foundation is here to help the community recover. From new information sources like a dashboard to new landing pages in our virtual world of communication, the EDF will continue to work with our partners and members through this.  In addition, when we learned that the local complete census count effort had utilized all their promotional funds about the time the pandemic hit, your Foundation stepped up with the city and contributed funds to allow two to three more months of promotional efforts. Having a high response rate to the census is critical for our community receiving the funds it needs over the next 10 years.  
None of us could even imagine that in the spring and summer of 2020 life would be like this. But, it is. Luckily we have a caring community with great leadership to pull us all back to pre-COVID-19 times. I look forward to that day. Today is one day closer to that.
Tim Zipp
Chairman, Greater New Braunfels Economic Development Corporation
CLICK HERE to learn more about the GNBEDF.