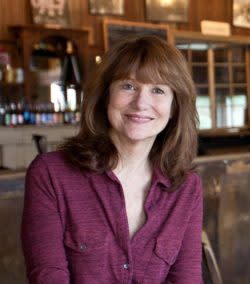 Mary Jane Nalley
Greater New Braunfels Economic Development Foundation
2018 Chair
Foundation Has Busy Year Ahead
It is my honor to serve as Chair of the Greater New Braunfels Economic Development Foundation again this year. In our short 14 years, this 501c3 not-for-profit foundation has partnered with other entities locally to create wealth and good jobs for our area. In that regard, this year is getting off to a great start!
You may have recently read about Palfinger Manufacturing Company choosing New Braunfels for their North American headquarters, making available 200 high-wage jobs and upgrading a long-empty industrial building. In addition, 450 new jobs will be created for our citizens by another firm not yet announced. That company will occupy over 40,000 square feet in an office building that has also been vacant for several years. These successes don't just happen; they follow pre-planned and intentional initiatives by our economic development staff in cooperation with the city that are paying off for our community.
Let's look at what our Foundation has planned for 2018. On Feb. 20 we will hold our annual meeting at McKenna Events Center. Officers and directors will be elected, a budget adopted, and an update will be given on the visioning process of the South Castell Avenue project. Much has been said and written about this initiative. In a nutshell, it is repurposing non-tax producing property owned by the city and the Union Pacific Railroad into income producing taxable property which will spin off non-tax revenue that will be available for use by our city government. Those uses can be in the areas of police and fire protection, street and drainage repairs, and more, which will ease the tax burden on our citizens for these expanded services needed by New Braunfels' rapid growth
At the Foundation meeting on April 17 we plan to learn more about the City Comprehensive Plan which will be adopted soon and will serve as our City's compass for many years into the future.Our citizens participated in the development of this plan, just as they have in the development of the South Castell Avenue visioning process. Later that same day we'll hold our first-ever mixer of our board and prospective new members at the new Village Venue. This is a great chance to see thislovely and well thought out venue while mixing with some of the many movers and shakers in our community.
When we convene on July 10 we'll receive an update on the broadband initiative by our City and NBU. This is a very exciting and overdue initiative and we salute the City and NBU for leading the way on this project. No doubt, those communities on the fastest internet highway will gain jobs and wealth and ensure strong economic development. Those without it will be at a severe disadvantage. At that same meeting we'll hear about NBU's plans to create the Aquifer Storage Recovery project at our municipal airport.
On October 16 we'll be hearing the annual "State of the City" as delivered by our city manager, Robert Camareno. Last year this was a sell-out and much anticipated due to New Braunfels' ranking as America's 9th fastest growing city. Then on Oct. 23 we'll hold another board and new member mixer at a site to be determined. So many great opportunities to connect in our dynamic community!
So, there you have it for the Foundation's plans in 2018. I'm challenged just thinking about it, but excited at the same time. I hope you'll join us in this journey.