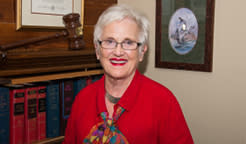 The New Braunfels Jaycees will hold their monthly Leadership Luncheon this Thursday, July 20 at noon in Honors Hall. The program will be a presentation by former Comal County Judge and Texas State Representative Carter Castell.
Casteel has been involved in public service since 1977 serving on numerous boards working to better the community. In 1984, while in Law School, she was a Board Member for Comal ISD, serving as President and Secretary. In November of 1990 she took office as Comal County Judge serving until December 1998. In 2003, Casteel was elected to the Texas House of Representatives and served until January 2007. She will discuss community involvement and leadership development with the Jaycees.
You do not have to be a member to attend. The luncheon is free for Jaycees members, $10 for non-members and lunch will be provided. Payment will be taken at the door. For more information email Jenna@InNewBraunfels.com.
The Jaycees are New Braunfels' young professionals organization offering networking, volunteer, leadership development, community engagement, philanthropy, and professional development opportunities to our community's next generation of leaders.