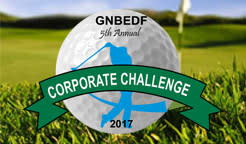 The 5th annual GNBEDF Corporate Challenge Golf Tourney is set for October 13 at Landa Park Golf Course at Comal Springs. Long time Chamber and other community members may recall the Central Texas Golf Fest. At its heyday, nearly 2,000 golfers and their spouses descended on the tri-city area (NB, Seguin, and San Marcos) for a three-day event that also was a huge shopping bonanza for the community.
The proliferation of golf courses in Central Texas and the aging of the loyal players eventually caused the three host Chambers of Commerce to end the event's run. However, the Chamber transferred the project to the Greater New Braunfels Economic Development Foundation in order for that 501(c)(3) to have a signature local event five years ago.
Limited to 100 players (25 foursomes), this quality event is becoming a "must do" half-day for the major businesses in the region. At the printing of this article, only one team spot is still open and eleven of the fourteen major sponsorships were committed. The three remaining ones carry with them a foursome into the tourney, a $50 gift card per player to be used in the pro shop, lunch, an awards reception and open bar at the conclusion of the event, and more.
In addition, for those not wishing to play, there are a limited number of tee box sponsorships for $225 each. Get all the information at www.GNBEDFCorporateChallenge.com or call Holly Covington at (830) 608-2817. Proceeds from the event go toward the Foundation's economic development efforts.