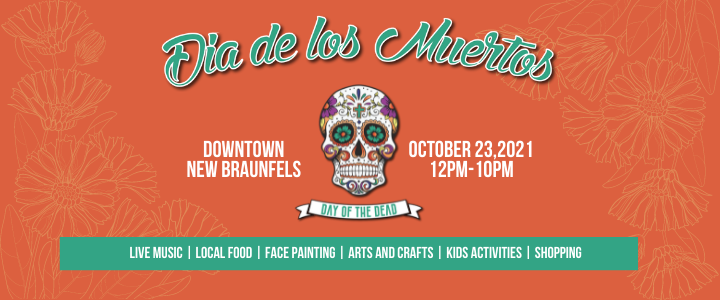 The Greater New Braunfels Chamber's Hispanic Business Alliance (HBA) is hosting the 5th Annual Dia de los Muertos Festival on Saturday, October 23 from noon to 10:00 p.m. in downtown New Braunfels. This is a free community event highlighting Hispanic culture including local food, drinks, arts & crafts, vendor booths, shopping and live entertainment.
The entertainment this year is top-notch with two stages featuring Tejano and local Americana artists from noon to 10:00 p.m. The San Antonio Street Stage has acts every hour beginning with School of Rock at the top of the festival. Tejano music will light up the Seguin Ave. stage starting at 4:30 p.m. with Conjunto Calidad and finishing with headliner David Farias Band from 8:30-10:00 p.m. Mariachis and dancers will fill the day with plenty of entertainment for the whole family.

Food opportunities abound with more than food vendors serving up a wide variety of delicious choices. More than 35 additional vendors will be offering all sorts of products including hand-made Mexican art, Dia de los Muertos themed accessories and crafts, wellness products, jewelry, clothing and more. There will also be a Kids Area with fun activities and crafts. Check out the full list of vendors here: https://www.chamberinnewbraunfels.com/dia-de-los-muertos/vendor-information/
The Dia de los Muertos Festival takes a lot of hard work from amazing volunteers. Volunteers will sign up for shifts to work during the festival doing everything from set-up to tear down and selling drink tickets and pouring beer (TABC certified). If you would like to sign up to be a day-of volunteer, please visit click HERE.
The annual Dia de los Muertos festival is the HBA's biggest fundraiser of the year. The money made from this festival is used all year long to support the HBA's small business grant fund, scholarships, and quarterly HBA events.
Dia de los Muertos is expected to draw thousands of residents and visitors to downtown New Braunfels. The festival is FREE to attend. For more information, visit www.NBDDLM.com.