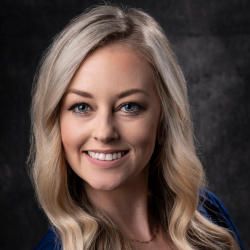 Erin Norman is the Program Coordinator for Leadership and Small Business Programs. Within this role, she is responsible for assisting the Vice President of Leadership and Small Business Programs with planning and execution of programs, live broadcast, committee meetings, receptions, trade shows, graduations, seminars and other events.
Erin is from Ashland, KY and attended Eastern Kentucky University where she graduated with a bachelor's degree in Public Relations. Prior to joining the Chamber, Erin held previous roles such as an Architecture and Engineering specialist and Account Executive. In 2015, Erin was offered a promotion with her former employer, which led her to Houston where she met her now husband. After visiting New Braunfels numerous times, they officially became residents in December of 2018.
In February 2019, their son Easton was born. In her free time, Erin enjoys spending time with family and friends, traveling, wine tasting, and exploring the Hill Country. 
Fun Facts:
Who is your all-time favorite musician or band? My current favorite is Parker McCollum 
If you could go on a free vacation anywhere in the world, where would you go? Dreaming big here, but I would love to vacation on a yacht in the Mediterranean. ​
What is your favorite holiday? I have always loved Thanksgiving! I love the thought of families coming together and of course the food! Since having our son, I cherish each holiday with our families even more.